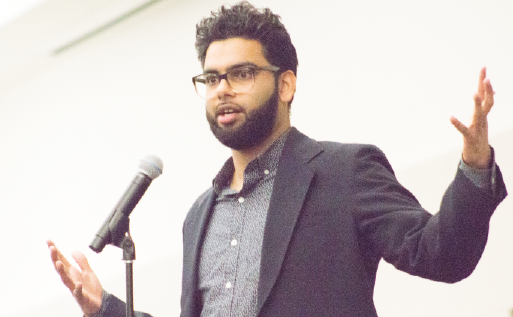 First generation American Syed Umar Warsi spoke to Ferris students about his experiences growing up as a Muslim man in America.
In a mix of spoken word and free flow storytelling, Warsi recounted his childhood, young love, parents, money and racism on Monday, Feb. 13.
Being the son of a Pakistani man who came to the United States seeking refuge from violence and a better life for his family, Warsi compared his seemingly easy life to that of his father's. This dissonance set the groundwork for what would be a difficult balancing act between American culture and the culture of his family.
Born and raised in Manhattan, New York, Warsi discovered a love for rap music.
"The deep underground kind of stuff," Warsi said.
Carrying this passion through his teen years and into college, Warsi has been able to turn it into an informative and entertaining address to college students nationwide.
In collaboration with Book A Muslim, a company dedicated to the sharing of American Muslim experiences to promote peace and understanding, Warsi and other members of the Muslim community are able to express themselves through art, performance or speech.
"His speeches were approachable and funny," said Ferris pre-pharmacy freshman Elaine Chau.
Having experienced numerous influences during his childhood, Warsi's spoken word poems made it all the more relatable with lines like, "So many eyes have spoken to me without a word," and "Every reaction has a consequence so you need to know where your conscience is."
Despite the relateability, the number of people in attendance was small in comparison to other recent events.
"I was disappointed with the number of students who showed up," said Ferris pre-pharmacy freshman Angie Nguyen. "Especially at a time when we need to be a community."
In light of recent executive orders our president has signed, Warsi spoke about the immigration ban and how it affected him personally. He encouraged the audience to think about the ramifications for the families of the Muslim people that they know and don't know.
An hour-long Q&A session followed the event. The students who attended and stayed for the entire presentation were interested in Warsi's thoughts, feelings and politics, as well as specifics pertaining to his religion.
A student asked Warsi what he would say if he could say one thing to those who support Trump.
"I wouldn't say just one thing, I would have a conversation with them," Warsi said. "I would want to have a constructive dialogue with them."
When a student asked him why he gave these speeches and what he sought to accomplish, Warsi answered: "I want everyone to understand that everyone has a story. That we need to share our story just as much as we need to listen. Open your mind to different perspectives."
To hear more from Warsi, stay tuned for his Ted Talk Friday, April 7.