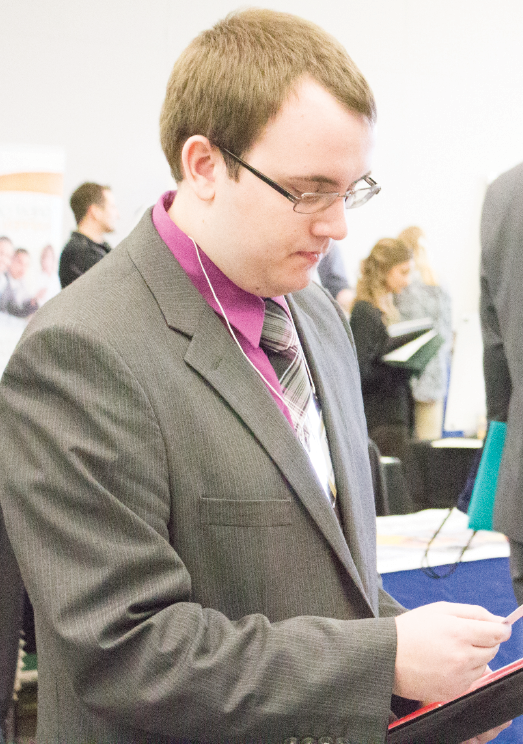 Navigating the professional world can be stressful when students start looking for jobs and internships, and Ferris is actively working to make that search easier.
Ferris' Center for Leadership, Activities and Career Services (CLACS) will host the Career and Internship Fair in the University Center as a part of Career and Internship Week on campus Monday, Feb. 20 until Monday Feb. 27.
With 193 employers registered to attend the event, students and employers enrolled for the Career Fair on Handshake.
Students were encouraged to dress to impress as they socialized with companies such as Meijer and Chemical Bank.
"We have tried a lot of new things this year as a result of listening to students, employers and the advisory council," said Ferris Coordinator of the Career and Volunteer Center Michele Albright. "Splitting the Career and Internship Fair into three days makes each event more intimate and less intimidating while providing more table space for new employers from diverse industries that we've not previously hosted on campus."
This week of career related events includes a series of Career Boot Camp seminars and a five-star event.
The Career Boot Camp: Millenials in the Workforce seminar took place Tuesday, February 21, where Ferris graduates and employers shared their first hand experiences.
The next five-star event will be "Become a Social Media Guru" Thursday, Feb. 23, featuring Luke Wyckoff, a Ferris alumnus, who will educate students on how to impress future employers by effectively utilizing social media.
"I feel like it only really benefits the hands-on or technology fields because those are the fields most employers are looking for," said Ferris information security junior David Dipple. "I would still suggest that anyone should go because it is a good way to learn how to interview and answer questions and to get your name out there."
CLACS will host "Career Boot Camp: Nothing For Me Here" 10 a.m. to 11 a.m. Friday, Feb. 24, in BUS 111. This seminar will teach students how to understand recruitment trends from a variety of industries.
"All students will benefit from these events if they use them to network, practice their employability skills and research the different companies and their opportunities," Albright said .
The Career and Internship Week will conclude Monday, Feb. 27, as the event winds down with students meeting potential employers.
"I've never gone but I feel like it can help someone figure out what they want to do with their life," said Ferris psychology freshman Brooke Bennett.
For more information, log on to visit Handshake, which lists all employers and event dates through MyFSU.