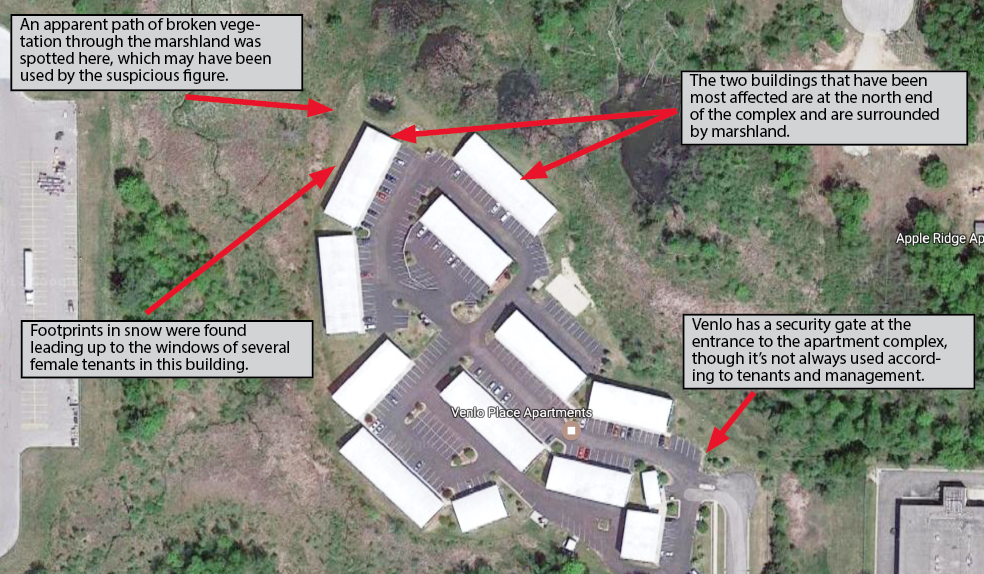 By: Keith Salowich & Angela Graf | Editor in Chief & News Editor
Fear and uncertainty reigned at the Venlo Apartment complex as four female tenants relayed their story of repeatedly being watched and harassed by an unknown male prowler.
Since September of 2016, Ferris public relations seniors Megan Heck, Emma Thibault, Amanda Roehl and Breann Fuller reported a number of incidences in which they saw a figure dressed in black walking around the off-campus apartment complex, attempting to look in windows and observing the apartment complex for nights on end. Heck, Thibaut and Fuller are roommates while Roehl is in a different unit in the same building.
The tenants described the prowler as a tall white male who is always dressed in dark clothing, a hoodie and beanie.
According to Fuller, the first occurrence was roughly six months ago.
"About two weeks into the fall semester, I was woken up at 3 a.m. by someone trying to break into my window," Fuller said. "So I went to management after that, obviously. I called the cops and basically all that was done was I was given a wooden rod to put in my window."
While the activity dropped off when winter set in, things seem to have once again escalated.
"We didn't really do anything or say much about it because we hadn't really experienced anything in a while. We thought it was just over with," Fuller said.
Then Wednesday evening, Feb. 15, the man approached Fuller's bedroom window.
"Last week, I was sitting down in my bedroom with my blinds closed. I always close them upside-down now because of the situation," Fuller said. "Megan [Heck] looks out the window and sees this guy dressed in all black. Then she knocks on the window and yells 'hey! F-you!' The guy just made eye contact with her and casually walked away."
"When I saw him walking he was extremely calm," Heck said. "He just doesn't seem like he's in any rush or worried about being seen, which is more disturbing."
With activity seeming to have picked up, the women suspect that it has been happening more often than they've discerned.
"This past week, we've come to realize that it's been a much more recurring thing than what we had noticed because within the last several days it has happened literally every single night," Fuller said.
They also think the prowler is targeting all-female apartments as these are the only residences that have had problems.
"It's to the point where we feel we've been watched because we have a [male] friend that lives a couple houses down who has said nothing has happened near his apartment," Thibault said.
"When there was still snow on the ground, there were footprints leading directly to female windows, as if somebody knows exactly where the women are living," Fuller said.
Despite four residents stating they had been in contact with Venlo management several times during the fall semester, property manager Linda Alvarado says she hadn't heard anything about the incidences until Feb. 15.
"I was not aware. Neither the police nor the tenants had contacted me before last week. If they had, we would have taken care of it a long time ago," Alvarado said.
Unlike several other off-campus apartment complexes, Venlo is surrounded by marshland. While they have a gate at the driveway entrance, it is rarely closed.
"We have gates at our entrance but the gates are not always down because we have found that it's very easy to just drive through it, and it does not stop people from walking in," Alvarado said. "There's only a swampy area with no fence separating us from behind Wal-Mart and Fuller [Avenue] and places like that, so there's easy access to the property without the gate. They can come in the back way easily."
Alvarado says that management and Venlo's corporate office Prim Property Management have been working with local law enforcement to increase security around the premises.
"We've had a lot done. We've added security, we've contacted Mecosta County and they've been patrolling. We are in the process of doing some other things that I'm not at liberty to say right now," Alvarado said.
The Mecosta County Sherrif's Department was unavailable for comment.
Venlo tenants received an email from management reminding them to keep outside lights on, lock doors and keep blinds closed. But Heck and the other women don't feel they're doing enough to communicate.
"I still don't feel safe here," Heck said. "I would feel more comfortable if they let us know throughout their process. That way we know that things are actually going through and happening. But they don't do that."
The situation has drastically altered the lives of several residents who claim they just want this to be over and for everything to return to normal.
"It's making me want to stay inside and not come back at night. I obviously have things to do sometimes, so when I come back and it's dark, I just run to my apartment," Roehl said.
"We take our dogs out to the bathroom in a buddy system," Thibault said. "I feel like we have to be so much more precautious because Venlo is not looking out for us, and the police haven't been able to help, so we have to look out for ourselves."