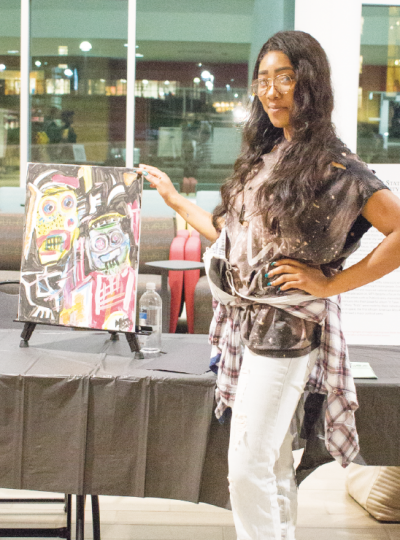 With coordination from the Office of Multicultural Student Services (OMSS), Ferris students paid homage to African American trailblazers in decades spanning the 1960s to present day. Iconic songs from these decades set the upbeat tempo for the evening as tables draped in black lined the first floor of the UC, last Wednesday evening, Feb. 22.
Each presenting a historical background of a specific decade, the tables formed a path for participants to follow making it easier to inform and entertain those on their way home or to grab food at the Quad.
"Our theme is 'Struggle To Progress,' highlighting where they came from and what they had to struggle through to get to the accomplishments they achieved." said Ferris human resource management senior Victoria Mason.
Alongside the information was a performed monologue written by students, as if the prominent African American icon was actually there.
The students had a connection to the person they channeled, as someone they found inspiring or even a family relation.
"It was actually a destiny, my great uncle is Malcolm X," said Ferris student Steven Jones.
Donning glasses almost identical to those Malcolm X wore, Jones delivered an informative speech giving a brief look into Malcolm's life and accomplishments.
Representing the 1960s was gospel singer Mahalia Jackson. Ferris political science freshman Charnice LaGrone gave a monologue and sang a verse from the gospel song 'Precious Lord' sang at Dr. Martin Luther King Jr.'s funeral.
When asked why she got involved she replied, "Singing. Mahalia was hands down the first person I thought of. She was so inspirational to me because I love gospel music," LaGrone said.
With her own painting, Ferris psychology senior Charnae Courts represented Jean-Michel Basquiat: the iconic artist from the 1980s. "They allowed us to incorporate our own thing into the program. Since I'm an artist, I wanted to focus on a prominent artist of that time," Courts said.
In the spirit of the phrase "last but not least," the last table was dedicated to black millennials born between 1980 and 1999, which Ferris criminal justice freshman Amani Perkins represented.
"I feel like millennials are one of the most not-talked-about generations," Perkins said. "People get confused with where we're at and who we are and who we aren't."
For more information or to get involved, stop by the OMSS located in FLITE 159 in the 24-hour area of the library.