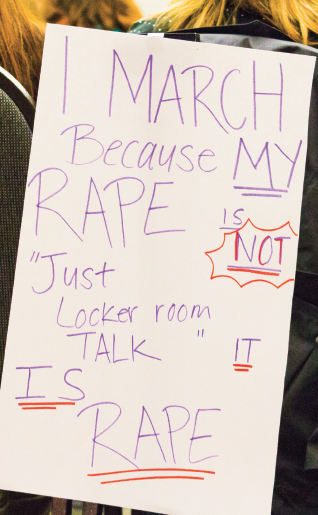 Ferris students and the Big Rapids community united at the annual Take Back the Night event to march against sexual assault and domestic violence.
Take Back the Night is an international march and rally that started in the 1970s as a protest and direct action against sexual violence.
"Take Back the Night, to me, is very much a community's voice saying that sexual assault isn't acceptable, and that we're going to stand together and support individuals who've experienced this," said Title IX coordinator Kevin Carmody. "As long as there is one person that experiences sexual assault, there is always something more that we can do."
Lambda Alpha Epsilon sponsored the Five-Star event, "Knowing the Signs—Take Back the Night," which featured guest speakers community service trooper Michael White and Steve Thompson. They focused on sex trafficking and campus sexual assault respectively. The room was full of faculty and students while both speakers passionately shared field experiences and statistics.
Ferris students and Big Rapids residents created signs and banners promoting rape awareness that were displayed throughout the ballroom during the presentations.
"I thought that, first, we had good attendance for this event. Both our speakers did really well talking about their specific topic areas. I think it was well received by everyone. I continue to hope and support the message of the speakers to be more than a bystander," said Ferris psychology junior Justin Wolber, the co-founder of the Step-Up bystander intervention program on campus. "Taking that personal responsibility as students to look out for one another is really important. When you see something that's not right, say something, do something and be safe about it."
Campus Needs You from the Title IX Office hosted a "Speak Out" event, where attendees shared their own experiences of sexual assault, gave words of support and listened to others stories.
"People need to be able to talk about it and have a safe place to talk about it, so I think that these events can really help," said Ferris social work junior Moriah van Order, an intern working at Campus Needs You.
Throughout the event, Campus Needs You held a comfy clothing drive in order to donate sweatpants and other comfortable attire to victims of rape so that they do not have to leave the hospital in scrubs or gowns. They also offered T-shirts to anyone who made a cash donation toward the Sexual Assault Nurse Examiner Program.
To learn more information about Campus Needs You events, you can find their Facebook page
@campusneedsyou.
To report an incident or ask for support in a situation, you can contact Kevin Carmody at (231) 591-2088. The WISE 24-Hour Sexual Violence Crisis Hotline can also be reached at (800) 374-9473.