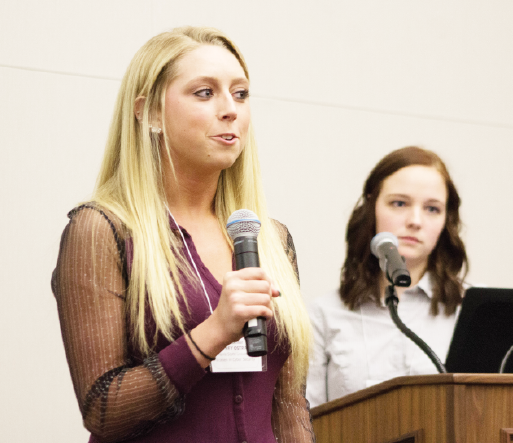 By: Harley Harrison & Marley Tucker | Torch Staff
Human trafficking is commonly perceived as a foreign issue that is rarely acknowledged as a problem that could occur in a town such as Big Rapids.
The Ferris State University Coalition Against Slavery and the Professional Convention Management Association student organization hosted a two-day conference Wednesday, April 5, and Thursday, April 6, to promote human trafficking awareness.
"I think it's important for college students to hear about this, not only to better educate them, but to learn the warning signs so you can help and prevent this problem," said Ferris hospitality management junior Jessica Smith. "You never know that there could be someone sitting right next to you that's being trafficked, so it's important to know to help other people."
The keynote speaker of the Thursday session was Carmen Kucinich, a licensed professional counselor in the state of Michigan and a victim's advocate for the FBI.
"Who can become a victim? Anybody," Kucinich said. "Now, we do know that the focus is on those with the biggest vulnerability. The biggest vulnerability tends to be our runaways. Teenagers run away, and they don't have a plan right? They have $10 and a backpack, and they need some place to go. They need all of these things, and they are more vulnerable to being recruited. The life expectancy of a child victim after being brought into this type of life, if they're not recovered, is only seven years. Drugs, STDs, suicide and violence put them at the highest risk."
In 2015, the National Human Trafficking Resource Center (NHTRC) received a total of 24,757 signals, which are defined as incoming communications. 3.6 percent of these signals were received in Michigan, which is the sixth highest percentage in the United States.
"With the rise of human trafficking cases in Michigan, it's never been more important to increase our awareness of this growing epidemic," said Ferris President David Eisler.
According to NHTRC, the most common venues for potential sex trafficking are commercial front brothels or hotels, and the most common venues for potential labor trafficking are domestic work or farms.
"I want you to stop and think about this: if you go to the store and buy a tomato, do you know for sure that it wasn't picked by someone who was exploited or trafficked?" said Grand Valley State University nursing professor Dr. Joy Washburn. "The other thing with all of this is to remember that it is a human being used. You can sell a human being over and over and over again. I hate to use the word renewable resource for them, but that is truly how traffickers look at their victims. It is a commodity. It is not a person."
For more information visit humantraffickinghotline.org. Reports can be made through the human trafficking hotline at 1 (888) 373-7888.