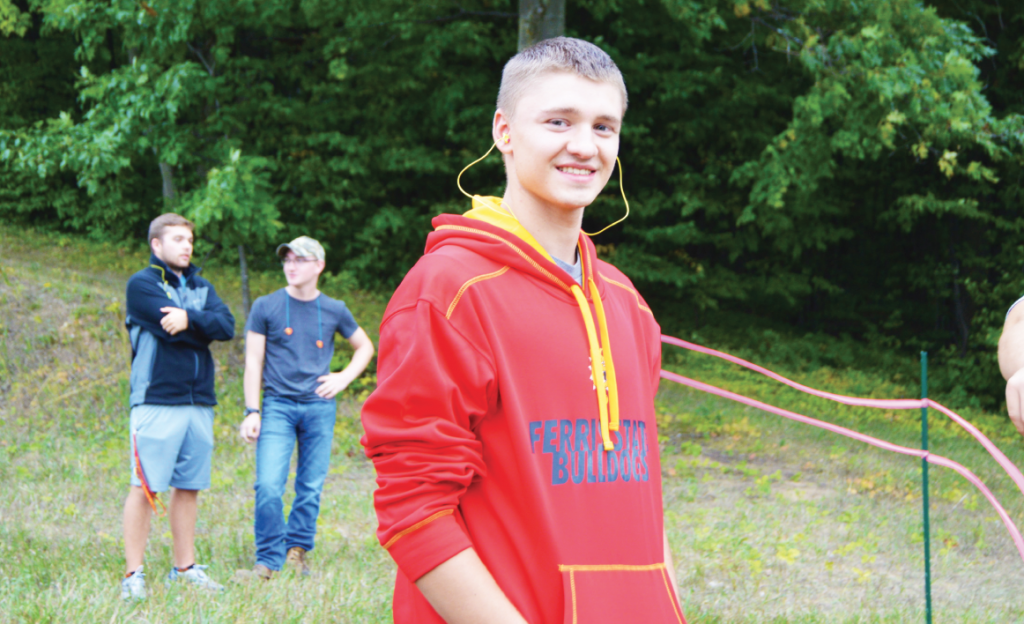 By: Alysha West | Guest Writer
Ask Noah Maxson or any of his friends or family members if they believe in miracles and the answer will be a resounding yes.
Sunday, Feb. 5, Noah Maxson, 19, a freshman in the criminal justice program at Ferris, was driving to his family's home in White Cloud after attending church at Trinity Fellowship in Big Rapids. While driving on a dirt road, he lost control of his truck on the ice and collided with a tree. During the collision, his head hit and shattered the driver side window.
"Firsthand, I think the only thing I remember is going into the Shell gas station after going to church," Noah said. "I had parked two gas pumps to the left of a guy that I knew. I talked to him for a little bit before we both had to go. I don't even know which way I left the gas station. I don't remember going to church. I don't remember seeing people there."
Noah's brother Shane Maxson, 21, was also on his way home and was the first to respond to the scene of the accident. He called for help at 12:52 p.m.
"It was really weird. The last thing I was expecting. I knew it was his truck. There's not many trucks like that around here," Shane said. "I checked on him first. Parked my car right there, jumped out. He was unconscious and I got him awake. As soon as I got him awake, I went and grabbed my phone."
Noah and Shane's parents, Tim and Michele, and his brother Elijah, 15, were also on their way home from church in a separate car. At 1:15 p.m., Michele received a frantic call from her nephew's girlfriend, who had found Shane tending to Noah at the scene of the accident.
"Tim was driving. He whipped the truck around and just floored it," Michele said. "And it was really icy out and Eli just leaned over and said, 'Dad, calm down,' and then he put his hand on his leg and then he said, 'We need to pray,' and he just started praying."
When they arrived on scene, Noah was unconscious on a stretcher, awaiting a medical helicopter to transport him to Grand Rapids. Michele went straight to him, despite Shane's protests.
"He didn't respond at all," Michele said. "I screamed in his face and there was nothing—no response. And so I knew when the first responder said, 'He's stable. He's gonna be okay,' I knew he was lying to me."
Noah was taken to the hospital by Aero Med and placed in the intensive care unit (ICU) of Spectrum Health Butterworth Hospital in Grand Rapids. He was hooked up to a ventilator and stabilized by 3:10 p.m. The initial scans showing that the impact of the crash had caused a traumatic injury and bleeding on his brain.
According to Michele, the doctors estimated that her son could be on the ventilator for weeks or even months. They warned that there was a potential for brain swelling and, if he survived, severe personality damage and difficulties with impulse control.
Ferris chemistry student Jeffrey Reardon, 23, became friends with Noah last fall through a registered student organization (RSO) called Real Life. When the members of Real Life heard about the accident, they gathered in the University Center to pray. Later, about 20 students drove to the hospital to support the Noah's family and pray in the waiting room.
"When we would pray and when I would pray, it felt like God was giving me reasons not to worry," Reardon said. "The news was scary and seemed counterproductive to that feeling, but it also felt like He wanted me to be calm and know that it was in His hands. It was kind of mixed emotions, but the overall feeling was kind of a calm feeling—to just keep doing what we could to lift him and his family up, stay calm, and provide some stability to him and his family. And know that it was in [God's] hands and just keep going."
That night, the bleeding on Noah's brain stopped. A day later, Noah was able to be eased off the ventilator in less than an hour. That was the first sign of the miracle.
Two days after his accident, Noah was able to take a few wobbly steps down the hall and was moved out of the ICU. Four days after his accident, Noah moved from the hospital to the Mary Free Bed Rehabilitation center.
"The first thing I remember rather well was seeing a friend who used to go to Trinity," Noah said. "I was being moved from the hospital to Mary Free Bed by an ambulance and I just so happened, out of the corner of my eye, caught this lady's face and said, 'hi' to her."
Twelve days after his accident, Noah was discharged and allowed to complete the remainder of his therapy as an outpatient.
Therapy has gone well and Noah does not need surgery on the bone in his face that was broken during the accident—it healed on its own.
"Everything that they told us to expect either didn't happen or it happened in record time," Michele said. "And the doctors have said over and over again: 'It's a miracle.' [They have] never seen progress like this before, never seen anybody with this kind of trauma just really overcome it this quickly or this well. They still say that. The therapists still say that. They're all like, 'We don't know what to do with you.'"
For Noah, the miracle is challenging to grasp because he does not remember much. In his mind, it is surreal, as if it had happened to someone else.
For his family and friends, however, Noah's injuries are a very real memory. They said that they are overjoyed and in awe of his recovery.
"We were at the accident scene [a couple of weeks after Noah's accident] and I just started sobbing," Michele said. "And he's like, 'Mom, I'm right here.' It sounds kind of funny, but it was so profound because I'm like, 'You are here.' I wanted that tree cut down. I didn't want to ever see it again, knowing that I would be driving by it every single day, twice. And Tim said, 'No, we're not cutting it down. That's a monument. That's a testament to how great God is.'"
While Noah was unable to complete his classes for the Spring 2017 semester due to the accident, he plans to return to Ferris in the fall and continue pursuing a degree in criminal justice.