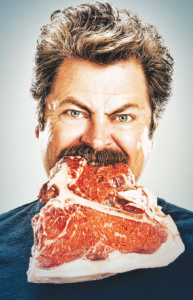 Homecoming week creates a lot of hype at Ferris, but one of the biggest events is the Homecoming Comedian.
In a vote held by Ferris State Center for Leadership, Activities and Career Services (CLACS) in May, students were able to vote between five famous comedians including Kenan Thompson, B.J. Novak, H. Jon Benjamin, Chris Hardwick and Nick Offerman. The announcement was made during the Bulldog Beginnings comedy show hosted by Eric O'Shea Thursday, Aug. 30.
By popular demand, students chose Nick Offerman, a comedian best known for his role as Ron Swanson on the TV show "Parks and Recreation."
"I went to the one the other day and it was great, I needed it," said Ferris liberal arts sophomore Alexis Freeland, referring to Eric O'Shea's performance. "I went to all the comedians last year and it was great."
Last year's Homecoming Comedians were Michael Che and Natasha Leggero, with a Ferris student getting the honor of opening the show. Students who would like to compete to open for Nick Offerman can sign up on OrgSync.
"It's cool to have somebody that you recognize that can just be here, especially in this town," said Ferris computer information technology sophomore Kyle Witte. "It's a name I recognize even though I haven't seen the show [Parks and Recreation], I still know him from other things, so it's cool."
Ferris marketing freshman Jaleeyna Dooley is excited to take part in the unique homecoming events that Ferris has to offer.
"People get tired of having the same stuff, but having a comedian kind of separates it I guess, makes it different and unique," Dooley said. "I think he's a pretty funny guy. I've never seen him do stand up, so that will be a first. I guess that's just something we will have to wait and see."
The show is scheduled for 8 p.m. Thursday, Sept. 28 in Williams Auditorium. Tickets will be available for students for $10 starting Sept. 5. Students are urged to buy their tickets early because they will be available to the public for $20 starting Sept. 19.
To purchase your tickets, bring your student ID to the CLACS office in room 121 of the University Center between 11 a.m. and 4 p.m. on weekdays.
For the original announcement of Offerman as the Homecoming comedian, click here.