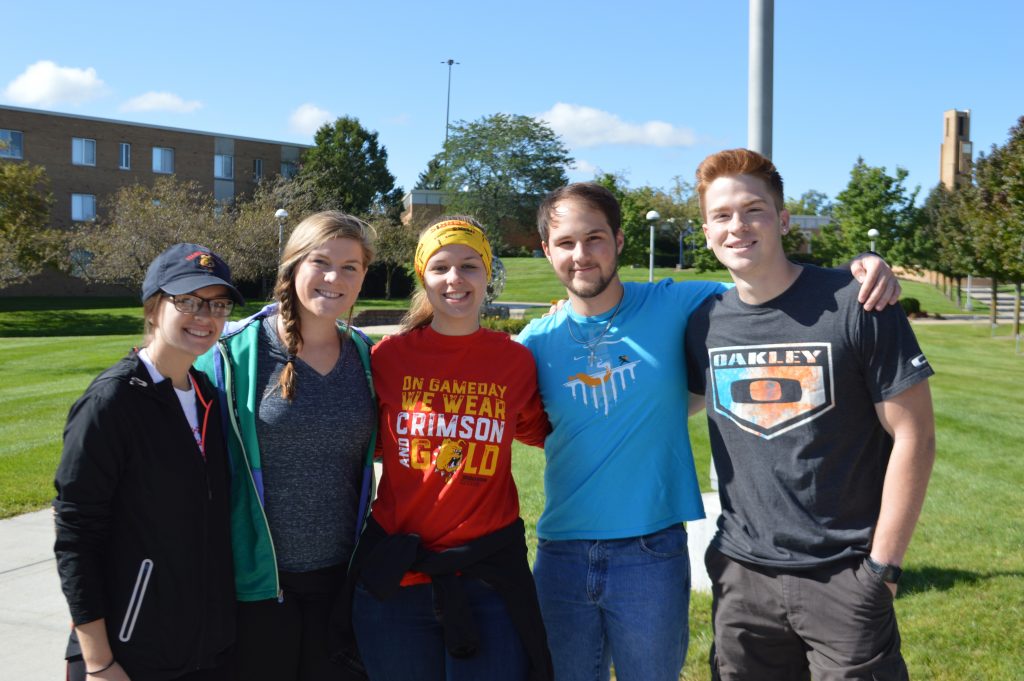 A record-breaking day for Big Alleyway Cleanup saw more than 100 students volunteer to clean up the community on Saturday.
"We went from 16 people, then 30 something last year, now we have 107," Ferris student government representative for the FSU Sustainability Committee Michael Williams said. "I just want to see people take care of their home, it's not just about us having a good time but it's about making sure we responsibly use the resources we have."
Those 107 people made up about 12 groups that were each assigned alleyways to clean. The groups included four registered student organizations, two fraternities, one sorority and members of the Army ROTC program, as well as approximately 40 individual students who did not come with a group but formed groups after arriving. The 12 groups were responsible for cleaning 51 blocks of Big Rapids alleyways.
Each group and individual had different reasons for coming out to help, many stemming from their experience with The Big Event, which helped put on the event.
Former Big Event Director Alex Reeds was at the event representing The Big Event and student government.
"They were looking for a way to make this program more sustainable," Reeds said. "We have the funds, we have the tools and we have the programming so we were really fortunate to get to work with them to put this on."
Ferris digital animation and game design senior Joe Rodriguez came with the Club Hockey Team and also credited The Big Event for drawing the club out on Saturday.
"Last year we started doing The Big Event, we all had a lot of fun and now we're just trying to get more involved with the school and community," Rodriguez said.
Ferris surveying engineering senior Tarik Ceric led the Pi Lambda Phi group in cleaning and said that they just want to repay the community.
"We're trying to give back to the community. Big Rapids does a lot for us and so does Ferris State," Ceric said. "We know how important it is for every single person to give their little bit back."
The Vice Chair of the Big Rapids Planning Commission Dr. Jennifer Cochran was the main organizer for the event and was pleased by the number of volunteers.
"I am absolutely thrilled with the turnout today; I'm very encouraged by the commitment of these students to come out on a Saturday and help clean up the community. That's something we definitely want to see continue," Cochran said. "We're just taking it semester by semester to see what's realistic and feasible but we do definitely want to encourage all of the student groups to make a commitment to this and to participate in it."
Click here to read more about the Big Alleyway Cleanup.