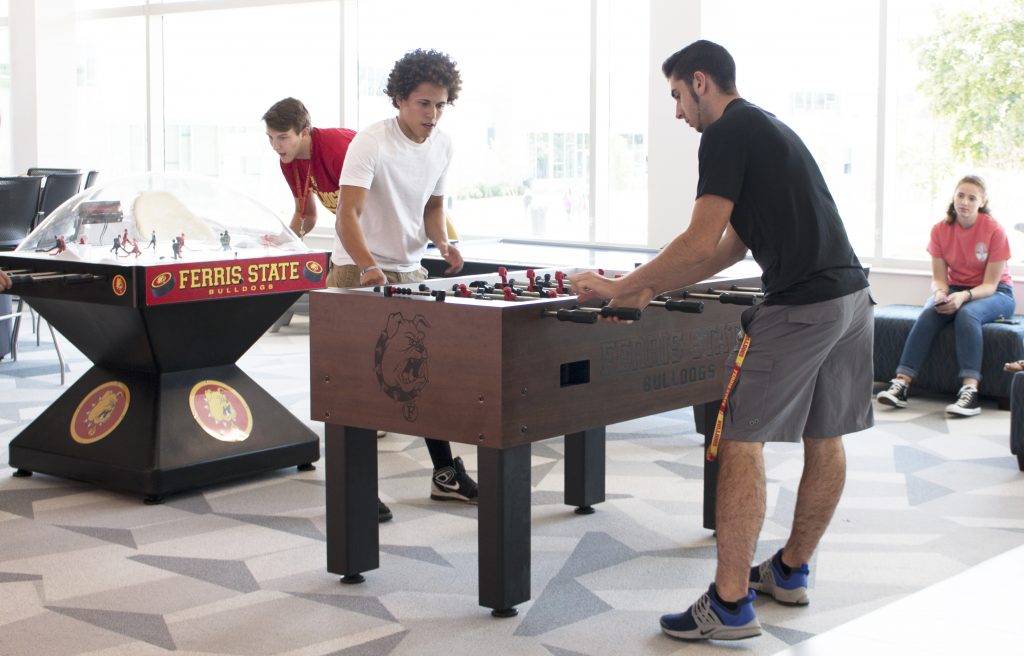 Freshmen living in North Hall experience some of the best housing Ferris has to offer, but some problems have arisen with the new building.
With construction not completely finished on the hall yet, it isn't surprising that students encountered some electrical hiccups after move-in day.
"I was kind of overwhelmed with everything at first but it's an interesting thought to know no one has slept in my room before because it's so new and clean," Ferris pre-optometry freshman Tommy Folker said. "The lights are motion sensitive so when your roommate walks in late at night your room gets bright. We had a floor meeting about it and they told us all to tape over the sensors, which is weird because it is such new technology. Some of the general outlets and water fountains don't work either."
Overall, many students have been satisfied with their experiences at Ferris so far. The location of North Hall is close to important areas on campus such as the University Center, FLITE and Williams Auditorium.
"It's really nice here. It seems like a five-star hotel. Right now, there are still some people working on the building– didn't really expect that– but overall, it's been pretty smooth," Ferris plastics and polymer engineering technology freshman Ross Chaplin said. "All of my classes are really close to the hall on the other side of the University Center, so that's convenient. Being so close to the Quad is great."
The North Hall Living Learning Center is equipped with a lobby, lounge areas, a game room, study rooms, classrooms and kitchen in the central area and east wing of the first floor. This area of the building is accessible to all students, faculty and staff Monday through Friday from 8 a.m. to 5 p.m.
"I don't really know what to say, it is so nice here I'm kind of jealous," Ferris CAD drafting and tool design technology freshman Joe Emmett said.
Like all students who struggle with any problems in their residence hall, a resident assistant (RA) is stationed and ready to help find solutions.
"North Hall is so interesting because it is an all freshmen hall and it's my first year as an RA. We're all learning and creating our own community and it's a super new building, and there's always tools and lots of people coming in and out," Ferris elementary education sophomore Alicia Harvill said. "We have a fix-it list at the front desk, so students come to us and then we type it in and problems are then shared with the appropriate personnel and people overseeing the construction of the building. Then the problems are handled according to the list."
If you are inside a residence hall and experience issues within the building, contact someone working at the front desk or the hall director. For more information, you can contact Ferris' Office of Housing and Residence Life at housing@nullferris.edu.
For more coverage of North Hall including a look inside the hall, click here.