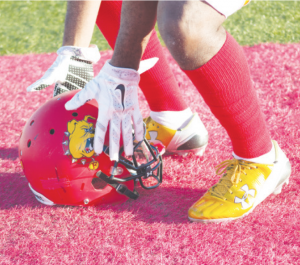 Ferris State football is set to host Northern Michigan under the lights in their home opener Saturday.
Ranked No. 2 nationally, the Bulldogs are returning home after a strong performance in a 48-27 win at Findlay. Ferris was led by an outstanding performance from senior quarterback Reggie Bell. Bell accounted for 422 total yards of offense and five total touchdowns including four on the ground.
Ferris is undefeated against Northern Michigan under Head Coach Tony Annese and the team has won six straight meetings against the wildcats dating back to 2011, including a 45-23 victory last year thanks to a Bulldog rushing attack that accounted for 436 yards.
Northern Michigan was on the wrong end of a 48-20 loss at the hands of Angelo State University and will be looking to bounce back with a stronger effort against Ferris.
Some familiar faces will be on other side of the field as former Ferris assistant coach Kyle Nystrom was named Northern Michigan's new head coach last December after working with the Bulldogs for two seasons.
Nystrom is in charge of helping the Wildcats improve upon a weak 3-8 record from a year ago while the Bulldogs are considered national contenders after collecting 12 wins and a trip to the national semi-finals.
"We're kind of trying to look at it one week at a time; obviously we're all excited for every game," junior defensive end Zach Sieler said.
This will mark the fifth straight season that Northern Michigan has come to Big Rapids to play the Bulldogs. Kick-off is set for 7 p.m. Sept. 16 at Top Taggart Field.
Click below to read up on last week's victory over Findlay!
https://fsutorch.com/2017/09/10/dawgs-run-wild/