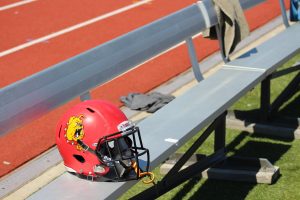 Despite a huge performance by Tom Brady in a bounce-back victory over the Saints, the G.O.A.T. didn't get enough help from his supporting cast, giving Ferris State another substantial win over the Beaulldogs.
With an 0-2 start to the Ferris Fantasy Football season, my hope for a dominant season is looking bleak, though the same cannot be said for Ferris. On top of beating my fantasy team 76-57.5, the Bulldogs took out Northern Michigan University in a 42-10 victory for their 2017 home opener.
Bulldog quarterback Reggie Bell proved that he's more than a run first quarterback, going 16-24 with 254 total passing yards and four touchdowns to top it off. Bell only had three rushing attempts for 24 yards, as the heavy lifting on the ground was done by running back Jahaan Brown.
Though he didn't have a touchdown, Brown rushed for 84 yards, more than anyone from either team on the night. I had hoped Le'Veon Bell would to be able to churn out some big numbers for me but he was unable to find the end zone against the Minnesota Vikings.
The defense of the Houston Texans was the only part of my fantasy team that was able to outperform the Bulldogs but that doesn't mean the Ferris defense didn't show up to play. Allowing only 10 points and intercepting two passes, the Bulldog defense is looking as good, if not better, than anyone in the league.
After a great performance last week, Chiefs' wide receiver Tyreek Hill only brought four fantasy points to the table. Larry Fitzgerald, my other wide receiver, wasn't even able to break two points.
Jajuan Pollock and Malik Taylor combined for 20 total receiving fantasy points for Ferris, whereas Fitzgerald and Hill only combined for a measly five and a half points.
The Bulldogs are back in action this weekend at 7 p.m. Saturday, Sept 23, on the road at Ashland. With a victory, the Dawgs would start their season 3-0 and I'll probably start mine 0-3.
Here's who the Bulldogs will be looking to knock off in week three:
QB: Drew Brees – The Saints may not be all that dominant this year but I never count out Drew Brees. A Hall of Fame caliber guy, I'm banking on Brees to put up some decent fantasy points against the Panthers in week three.
RB: Todd Gurley – With a matchup against the San Franciso 49ers on Thursday night, I'd like to see Gurley step up and be the amazing back that he was as a Georgia Bulldog. The 49ers are less than good this year, so here's to Gurley running amuck.
WR 1: Brandin Cooks – As Cooks adjusts to New England and becomes one of Brady's favorite targets, look for him to be a consistent fantasy scorer. And since I've already used Brady, the next best thing is to pick one of his targets.
WR 2: AJ Green – Some may call me crazy for picking anyone on the Bengals, but after some coaching staff changes made by the Cincinnati management, I'm hoping Dalton will be able to find Green in the end zone once or twice.
FLEX: Jesse James – As the Steelers take on the Bears in week three, hopefully Big Ben will be able to find his tight end in the end zone.
Defense: Ravens – The Ravens have a historically great defense and I'm about to have a historically terrible season if I don't find a defense that can put some points on the board for me.
Kicker: Matt Prater – My Lions pick of the week goes to Matt Prater. With Wyatt Ford kicking the lights out for the Bulldogs, I'm hoping Stafford can at least get Prater in position to put some points on the board.
Check out Beau's picks from last week by clicking here.