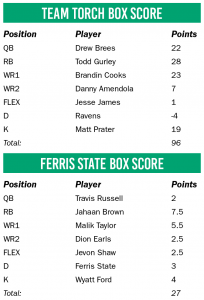 Ferris football's first loss of the season gives my fantasy football team its first win of the season in demanding 96-27 fashion.
With this fantasy victory, my fantasy record improves to a less than impressive 1-2 heading into October.
Without quarterback Reggie Bell who was out with injury, the Bulldogs were unable to move the ball on offense, resulting in zero touchdowns for Ferris State. Travis Russell came in to get the start at QB and put up two fantasy points. My fantasy pick of Drew Brees, who was only my third highest scorer, was able to put up 22 points.
My best pick of the week came in the form of Todd Gurley, who put 28 fantasy points on the board in a high-scoring game on Thursday Night Football. Bulldog running back Jahaan Brown was the highest scorer for the Bulldogs with 7.5 points, though he was unable to find the end zone.
Another standout for the Beaulldogs was Patriot wide receiver Brandin Cooks, catching two touchdown passes and a two-point conversion from Tom Brady, gaining 23 fantasy points in a victory over the Houston Texans.
Though the scoreboard doesn't show it, the Bulldog defense stood strong while gaining two sacks on the night. The Dawg defense wouldn't have had to do much to knock out my fantasy D, as the Baltimore Ravens defense racked up an astounding negative four points in a loss to the Jacksonville Jaguars across the pond.
Bulldog kicker Wyatt Ford went one for two on field goals while my fantasy kicker, Matt Prater, racked up 19 fantasy points en route to a record-breaking performance in the Lions heartbreaking loss to the Atlanta Falcons.
With a homecoming matchup against Wayne State Sept. 30 on the Bulldogs' home turf, Ferris will be looking to get back to their winning ways.
Here's my week four fantasy lineup:
QB: Matt Ryan – After just barely slipping by in Detroit last week and throwing three interceptions, Ryan should bounce back and put some points on the board for the Falcons, a favorite for a spot in the Super Bowl.
RB: Theo Riddick – Riddick, along with the rest of the Detroit backfield, has been proving that the Lions running backs are to be respected, both on the ground and in the air.
WR 1: Stefon Diggs – Diggs had a huge day last week against the Buccaneers and though I always hope for a Lions victory, hopefully Diggs can produce some points in week four.
WR 2: Michael Thomas – Last week saw Thomas snag a touchdown pass from Drew Brees in a victory over the Panthers. Here's to hoping he catches one (or two) more for me this week.
FLEX: LeSean McCoy – Always one of the top backs in the league, McCoy needs to pull out some points if I'm going to beat an angry Bulldog team looking for a bounce back victory.
D: Jaguars – After a dominating win last week and a matchup with the lackluster Jets this week, let's see what the Jags can do on the defensive side of the ball.
K: Matt Bryant – Here's to hoping the explosive Falcon offense will slow down just a little bit to give Bryant a chance to put a few points on the board.
Click here to see Beau's picks from last week.