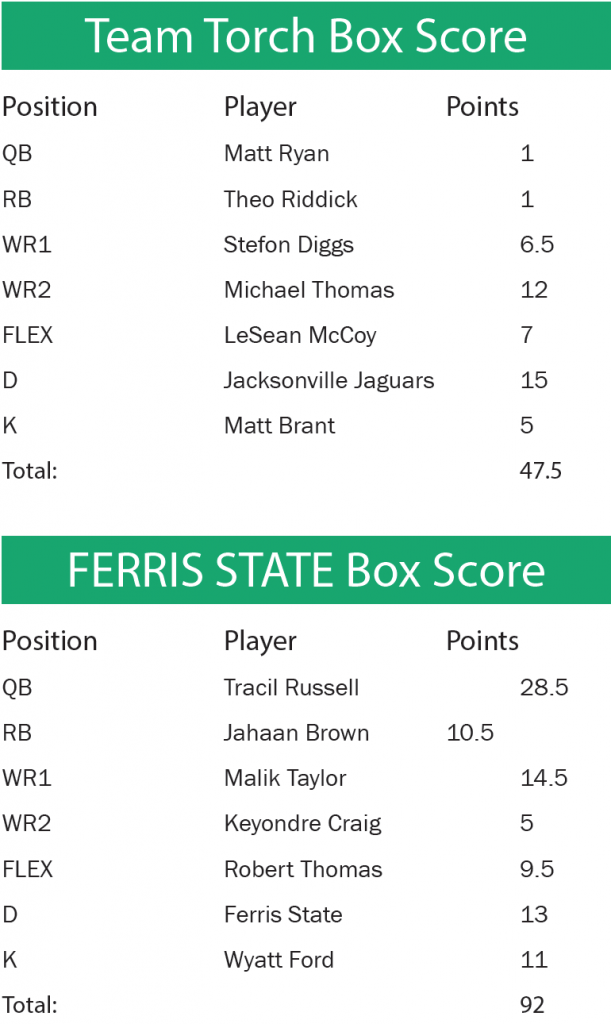 A huge bounce back homecoming win for the Bulldogs spelled defeat yet again for the Beaulldogs this week in the form of a 92-47.5 Ferris fantasy victory as over 80 Ferris State football players were able to get some playing time.
Matt Ryan, the Falcon who led his team all the way to the Super Bowl last year, scrounged up a whopping one point for my team this week after the Falcons lost to the Bills 23-17. In reality, Ryan didn't even have one point, but I rounded up to make myself feel better about the massive "L" he had led me to.
Quarterback for the Bulldogs Travis Russell had himself a huge day after a lackluster start to his year last weekend, amassing 28.5 fantasy points on a touchdown pass, and two more touchdowns on the ground. He seems to be finding his rhythm after losing starting QB Reggie Bell to injury.
Russell wasn't the only Bulldog to find the end zone on the ground, as running back Jahaan Brown was able to get on the board with a TD of his own. Even though I have nobody to blame but myself for selecting Theo Riddick over Ameer Abdullah for my running back this week, I can't help but let out a, "C'mon, man!" as I realized Riddick also received only one fantasy point.
Malik Taylor was another Bulldog who was able to put six points on the board, catching a TD pass from Russell and receiving 14.5 fantasy points, the second highest fantasy scorer of the week.
Bulldog running back Robert Thomas brought forth a nice effort, bringing his team 9.5 fantasy points after scoring a touchdown on the ground.
The always-on-point Wyatt Ford knocked in eight of eight extra point attempts and a 23-yard field goal for 11 fantasy points.
The Ferris State Torch's own Danny Collins also jumped on the scoreboard with a touchdown of his own after jumping on a blocked punt in the end zone, tacking onto the defense's 13 point fantasy performance.
The Bulldogs, after taking a 3-1 lead on the less than impressive Beaulldogs, are back on their home turf this weekend at 1 p.m. Saturday, Oct. 7, against Tiffin.
Here are my week five picks:
QB: Jameis Winston – The Buccaneers are taking on the Patriots this week in a Thursday night football match up, and the Patriots' D has been giving up a lot of points this year. Let's go, Famous Jameis!
RB: Ameer Abdullah – How silly of me not to choose this guy last week. I need another huge day from Abdullah as the Lions take on the Panthers on Sunday.
WR 1: Jermaine Kearse – The J-E-T-S will be riding a wave of momentum after taking down the Jaguars last week. Hopefully the Jets' newest acquisition Kearse can find the end zone a couple of times for me.
WR 2: Alshon Jeffery – The Eagles are taking on the tough Cardinals secondary this week, but Wentz is an up-and-coming QB who should be able to (I hope) find Jeffery a few times, hopefully in the end zone.
FLEX: Marshawn Lynch – Pulling out my wildcard here, I'd like to see Mr. Skittles trample the Baltimore defensive line en route to the end zone.
Defense: Raiders – Khalil Mack and the Raiders are taking on the Ravens this week, a team who has really struggled to find their place this year. I'm not one to wish ill will on anyone, but if I were a person who would do that, I wish for Baltimore offense to not play very well.
K: Stephen Hauschka – Hauschka is one of best kickers in the game, and with the way the Bulldogs are playing again, I'll need all the help I can muster up.
Click here to see Beau's picks from last week.