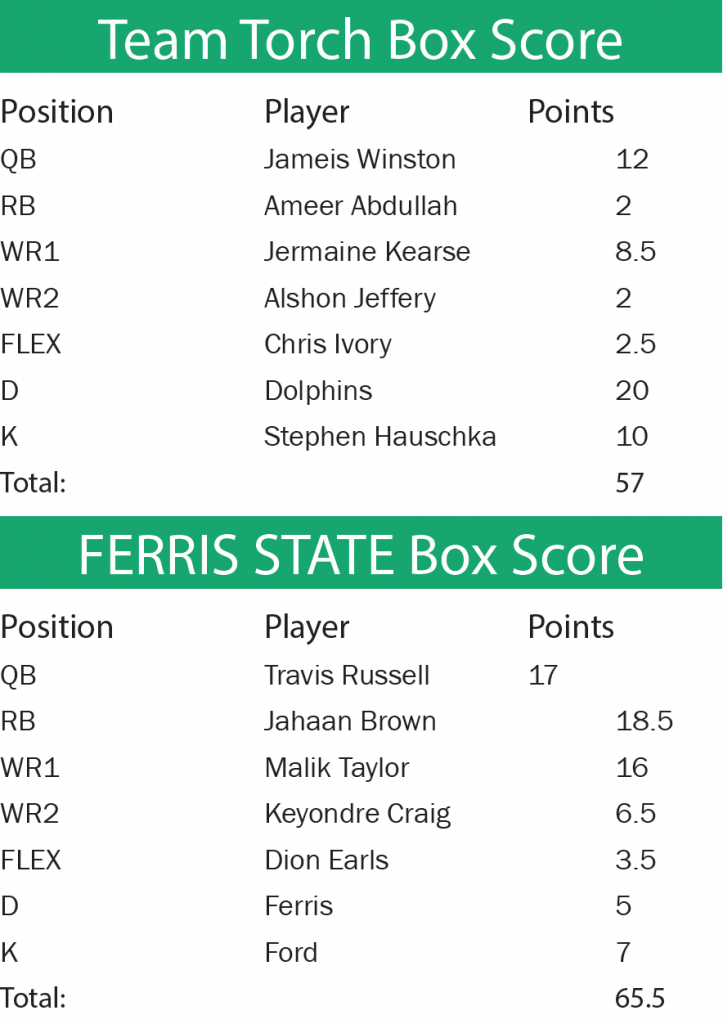 A week five 13-3 Bulldog victory made for the closest Ferris Fantasy Football week of the 2017 season, though the Beaulldogs still were not able to garner enough points for the win.
In Travis Russell's third start under center for Ferris, he was able to snag 17 fantasy points in a low scoring game by throwing one touchdown pass on top of 229 yards.
The recipient of that touchdown pass, Jahaan Brown, led all other offensive players in fantasy points with 18.5. Brown wiped the floor with my running back, Ameer Abdullah.
After a huge week four performance from Abdullah, I expected him to be able to tear up the Carolina defense but Theo Riddick received a majority of the Detroit carries.
My dangerous (stupid) picks of Jermaine Kearse and Alshon Jefferey at the wide receiver position didn't even come close to paying off for me, combining for 10.5 total fantasy points. The Bulldog tandem of Malik Taylor and Keyondre Craig were able to snag enough yardage through the air to combine for 14.5 points in a game that only had 13 Bulldog points scored.
Though the Dawgs won the defensive battle against Tiffin, my pick of the Miami Dolphin defense brought in the most fantasy points after sacking the quarterback six times, recovering two fumbles and scoring one touchdown for 20 fantasy points.
Old reliable Wyatt Ford went two-for-two on his field goal attempts and knocked in one extra point.
The Bulldogs are on the road this weekend against Saginaw Valley State at 3 p.m. Oct. 14. To get over the 1-4 hump, I'll be breaking out the unpredictable Lions defense this week.
Here are my picks for week six:
QB: Carson Wentz – The impressive young quarterback put up 27 points against Arizona in week five. With my luck, he won't come anywhere near that this week but we're going to give it a go.
RB: Christian McCaffrey – McCaffrey scored his first NFL touchdown last week in a victory. Here's to hoping he rides that wave of momentum into week six against the Eagles.
WR 1: Chris Hogan – Any target of Tom Brady's is a safe bet for a decent amount of fantasy points and when you're as desperate as me for a win, you look to Brady.
WR 2: Randall Cobb – The Packers have the Vikings this week in a divisional matchup and just like a Brady target, anybody who is catching Aaron Rodgers' passes is bound to have a good game.
FLEX: Nelson Agholor – I'm putting a lot of my eggs in one basket here in choosing an Eagles QB and WR, so let's see how this bold strategy plays out, Cotton.
Defense: Lions – My Detroit Lions gave up 27 to Cam Newton and the Panthers last week but the explosive D is on the road against New Orleans this week and I need them to put some defensive points on the board.
K: Cody Parkey – Parkey put up 15 fantasy points in week one and as the Dolphins take on the struggling Falcons. Hopefully he can get back to his week one ways.
Click here for last week's edition of Ferris Fantasy Football.