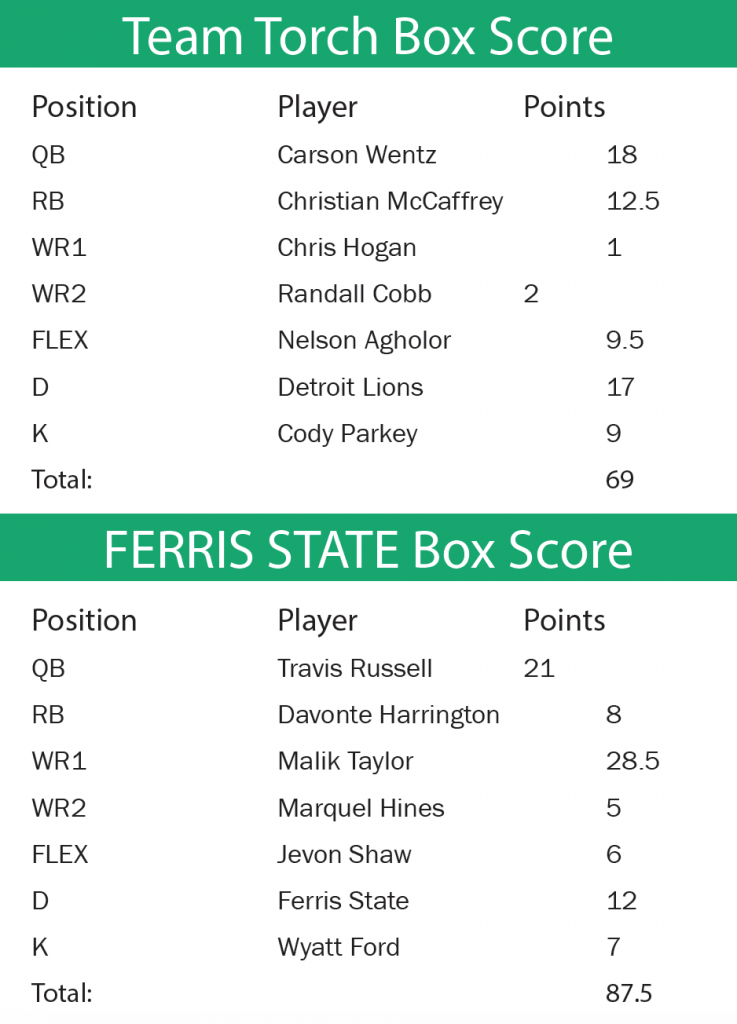 A huge day for a couple of Bulldogs and an extremely lackluster day for the Beaulldogs' wide receiver core spelled defeat for my fantasy team once again, bringing my season record to 1-5.
Ferris quarterback Travis Russell connected with receiver Malik Taylor twice in the end zone, both men outscoring my fantasy quarterback and receiver combination of Carson Wentz and Chris Hogan.
Wentz put up a respectable 18 points in the Thursday, Oct. 12 win over the Panthers but Russell's 21 fantasy points allowed him to win this week's QB battle. Chris Hogan is probably doing his best to forget his one-point fantasy performance in the Patriots' too-close-for-comfort win over the Jets.
Taylor tacked on 165 receiving yards to go with his two touchdown catches, leading all competitors in this week's competition with 28.5 fantasy points.
One pick I can be happy that I made was Panthers' running back Christian McCaffrey, who produced 12.5 points, despite a loss to the Eagles.
Four different Bulldogs were able to find the end zone on the ground but none of them breached 30 rushing yards. Devontae Harrington, who led all running backs with 23 rushing yards, gathered eight fantasy points.
The Ferris State defense produced 12 fantasy points, though the Detroit Lions (even in another cruddy loss) were able to stack up 17 fantasy points on the road against the Saints.
With an intense rivalry game coming up for Ferris State at 1 p.m. on Saturday, Oct. 21 against Grand Valley on the Dawgs' home field, I'm going to have to make some picks that will knock the socks off the fantasy world.
Take a look at my picks for week seven:
QB: Alex Smith – The potential MVP of the league has the potential to give me a bundle of fantasy points in week seven during Thursday night football.
RB: Javorius Allen – Allen produced just over 12 points in the Ravens week five victory over the Oakland Raiders. The two weeks prior combined, he produced only about five points, so let's hope he can keep that momentum moving.
WR 1: Cole Beasley – Coming off a bye week, the Cowboys will be taking on the 49ers. With a week five fantasy total of 15 points, I'm hoping for another big week.
WR 2: Devin Funchess – Funchess is slowly becoming one of Cam's key targets. He's been putting up some decent points as of late, and with a week seven game in Chicago, Newton should be looking for the big man.
FLEX: Jordan Howard – This Chicago Bear will be on his homefield as the Panthers head north. Howard has been putting up some pretty consistent points so far this season.
Defense: Rams – Taking on an aging Carson Palmer and the Cardinals, let's see if the Rams defense can perform at home.
K: Wil Lutz – It's always tough for an offense to score when they're up against the Packers at Lambeau. Hopefully Drew Brees can get Lutz close enough to chip a few in.
Click here to see results from last week's Ferris Fantasy Football matchup.