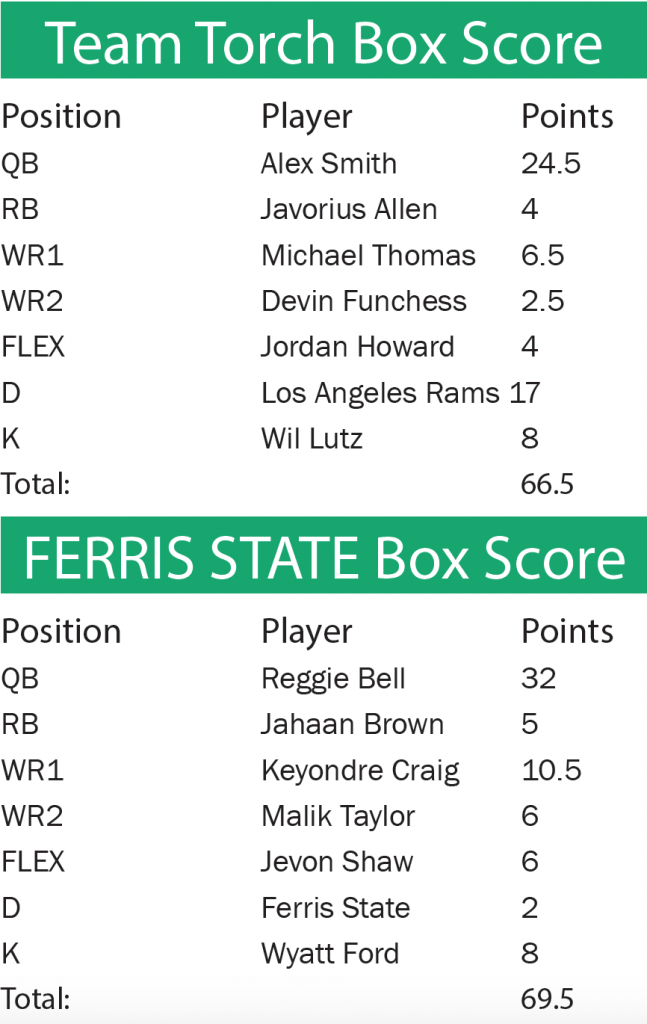 The triumphant return of Reggie Bell in a huge victory over GVSU spelled defeat for the Beaulldogs once again but this time with a close score of 66.5-69.5.
With a 1-6 record, my chances of making any fictional playoffs really went down the drain, though I'm not giving up yet. I made a rare, decent pick with Alex Smith this week, giving me 24.5 fantasy points.
Those 24.5 were great and all but Bell's 32 fantasy points on 228 passing yards and 91 rushing yards on top of two touchdowns were too much for me to overcome.
Bell did a lot of the heavy lifting in the game with the support of his teammates such as Keyondre Craig who gave the Dawgs 10.5 fantasy points on 106 receiving yards.
The only Bulldog other than Bell to find the end zone, Jevon Shaw, had just one rushing yard on three attempts, giving him six fantasy points.
After the realization that I selected Cowboy's receiver Cole Beasley, who played later in the day than I anticipated, I decided to swap him out for Saint's receiver Michael Thomas, a target of Drew Brees. Thomas was only able to corral 6.5 points but those 6.5 points were more than any of my other skill players were able to gather.
Ol' reliable himself Wyatt Ford went two for two on field goal attempts with his longest kick coming from 27 yards out. Ford also knocked in both extra point attempts, giving his team eight fantasy points.
The L.A. Rams' defense produced 17 points for the Beaulldogs, shutting out the Cardinals. The Ferris defense played well but allowing 27 points and recording zero interceptions led to a two-point fantasy performance.
Though the Dawgs' returned the Anchor-Bone trophy to its rightful home, all eyes are now on Northwood as they host the Timberwolves at 1 p.m. on Saturday, Oct. 28 for week eight action.
Also, I only lost by three points this week, a new personal record.
Here are the week eight NFL picks:
QB: Philip Rivers – The Charger who never seems to be able to get up to a full charge, Rivers is at least somewhat dependable. With that ringing vote of confidence, hopefully Rivers will be able to carve up the New England defense.
RB: Carlos Hyde – Hyde and the 49ers have had a bit of a rough year but even in a loss, they can find the end zone. Hyde also put up 17 points in week 6.
WR 1: Amari Cooper – Cooper put up 26 points in the Raider's victory over the Chiefs. Keep 'em coming!
WR 2: DeSean Jackson – The once dominant Eagle now plays under the Buccaneer banner, with his highest performance coming in week two against the Vikings in a loss with 11.5 points. I'd say he's about due for a big game.
FLEX: Kyle Rudolph – The Vikings will have an early morning game against the lackluster Browns this week, giving me a good feeling that the Vikings (with a possible return from Bridgewater) can find the big man in the end zone.
Defense: Bengals – I wouldn't normally choose the Bengals D but they're up against a less than stellar Colts offense.
K: Graham Gano – Depending on which Cam shows up, you never know how the Panther offense will play, which is why I'm putting stock into the Carolina kicker.
Click here for last week's Ferris Fantasy Football results.