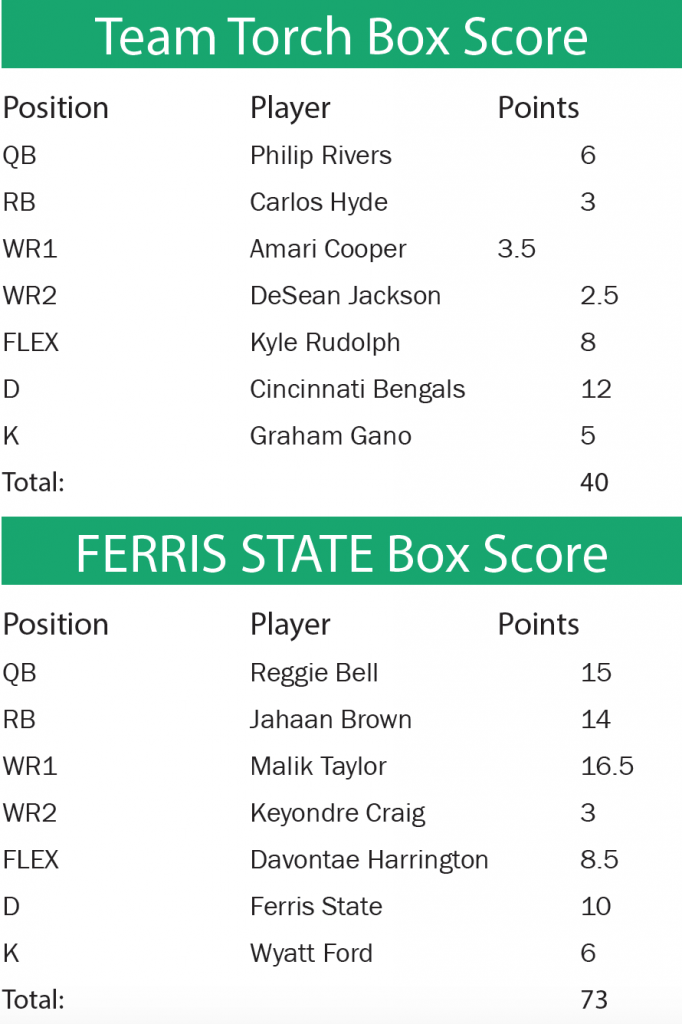 The Bulldogs continue to roll and the Beaulldogs continue to struggle after Ferris State beat Northwood 24-14 in Big Rapids on Senior Day.
Ferris' 7-1 record so far this year mirrors my 1-7 fantasy start to the regular season, which has almost reached its end. With two more regular season games, which both happen to be on the road for the Bulldogs, now is my chance to sneak in a couple more fantasy wins.
Some may call my Phillip Rivers and Carlos Hyde picks stupid and to those people, I would certainly have to agree. Combined, my quarterback and running back gathered nine points, six points fewer than Reggie Bell scored alone.
Even if I would've made some better fantasy picks in the skill positions, it would have been tough to outshine both Jahaan Brown and Malik Taylor. Brown carried the rushing load with 128 total yards on 12 carries.
Taylor made quick work of the Northwood secondary by receiving 106 yards through the air on six catches and catching one touchdown pass, averaging 17.7 yards per catch.
Desean Jackson was only able to collect 2.5 points for me.
Kyle Rudolph, the dependable tight end of the Purple People Eaters, had a decent game, gaining eight fantasy points in a 33-17 win over Cleveland.
As usual, Bulldog kicker Wyatt Ford was on point, going one for one on field goals while hitting all three of his extra point attempts.
Both my defense and the Ferris State defense performed well, though I edged out the Dawgs to win the defensive battle as the Bengals were able to garner 12 fantasy points in a win over the Colts.
Though I feel as if it is finally my time to snag a quality win, I will be handing off this week's fantasy picks to the Torch's web editor, Keith Salowich. I have faith in his ability to lead the Beaulldogs to their second victory and begin a winning streak.
Ferris is on the road this weekend to take on Davenport at noon on Saturday, Nov. 4.
QB: Alex Smith – Smith and the rest of the Chiefs will have to put up some serious points if they want to contend with the Cowboys.
RB: Alvin Kamara – Kamara is an inspiration to us all. He may not be no. 1 on the Saints' depth chart (that honor belongs to Mark Ingram) but he's no. 1 in our hearts.
WR 1: Michael Crabtree – The Crabman will use his big meaty claws to scuttle into the endzone this Sunday, just as he has six times already this season, which is good for the third highest total among wide receivers in the NFL.
WR 2: Will Fuller V – At what point does a fluke become a fact? Fuller is averaging 1.75 touchdowns per game since seeing action for the first time in week four.
FLEX: Cameron Brate – Brate is great. Enough said. Plus, his matchup against the high-octane offense of the Saints should mean that the Bucs will be airing it out all day.
Defense: Los Angeles Rams – The Rams will be coming off their bye week to take on one of the worst offenses in the NFL. Did I mention they're also the second best scoring defense?
K: Jake Elliott – The Eagles' offense is good and Elliott is good at kicking things through things. It's a win-win for the rookie kicker.
Catch last week's edition of Ferris Fantasy Football by clicking here.