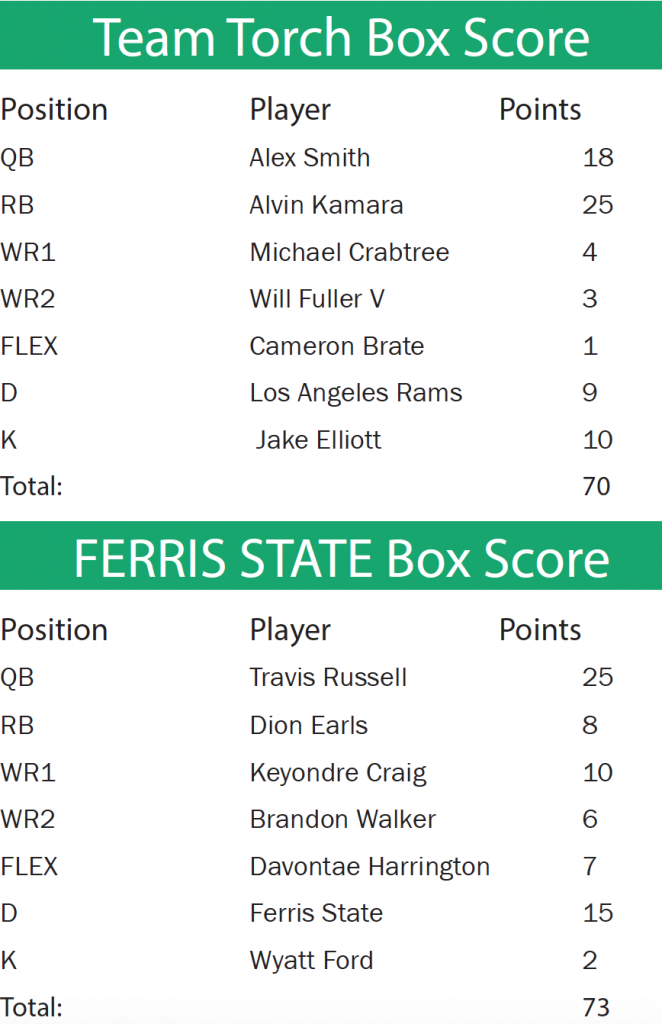 A decent fantasy performance by the Beaulldogs was smothered by Ferris' defense that shut out Davenport on the way to a 26-0 victory last Saturday.
Ferris senior defensive backs Tavierre Thomas and Jevonte Alexander each snagged an interception for the Bulldogs but the real story of the game was the fact that Davenport was held to only 156 yards of total offense. It's no wonder the Bulldogs defense racked up 15 fantasy points.
The defense's strong fantasy showing was second only to Ferris sophomore quarterback Travis Russell, who tallied 224 yards of total offense and found the endzone once through the air and once on the ground.
Even in wet, windy and chilly conditions, a slew of Ferris receivers were able to find the endzone. Ferris junior Keyondre Craig took a 15-yard pass to the endzone early in the fourth quarter while fellow Bulldog receivers Dion Earls and Davontae Harrington each recorded a rushing touchdown.
My picks at quarterback, running back, defense and kicker all paid off but duds from the receivers on my team sank my hopes of winning like an anchor. Both Jameis Winston and Deshaun Watson, who I hoped would be slinging it to two of my receivers, were injured, which definitely dampened my point total.
Sitting at 1-8 on the season, the minds behind Ferris Fantasy Football clearly don't have playoffs on the mind. However, the Bulldogs are currently 8-1 on the season and are ranked no. 6 in the country, according to d2football.com.
The Bulldogs have a lot to play for as they hit the road again this weekend to take on Michigan Tech at noon Saturday, Nov. 11 in the regular season finale. The Beaulldogs, meanwhile, will be looking to earn their second win of the season with the following picks.
QB: Josh McCown – McCown has shockingly put up some solid numbers leading the Jets and faces the defensive equivalent of a banana slug this week at Tampa Bay.
RB: Leonard Fournette – This guy has been riding the bench for three straight weeks now after an injury, a bye week and being listed as a healthy scratch. He's well rested and talent abounds. LET HIM LOOSE.
WR1: JuJu Smith-Schuster – Schuster just saw a season-high seven targets and made the most of them with 193 yards and a touchdown. I'm not chasing points. I'm chasing the coolest name in the game.
WR2: Paul Richardson – Arizona's Patrick Peterson will likely be blanketing the Seahawks' top receiver, so Richardson should see increased targets.
FLEX: Todd Gurley – The guy has been unstoppable. I dove deep for receivers so that I could load up on running backs.
D/ST: Pittsburgh Steelers – The Steelers will have made great use of their bye week to prepare for the lone offensive weapon the Colts have. TY Hilton owners beware.
K: Matt Prater – Next week in my actual fantasy football league I'm facing the Prater owner, so naturally he'll go off for 20 points, as is tradition.
Click here for last week's rundown of Ferris Fantasy Football.