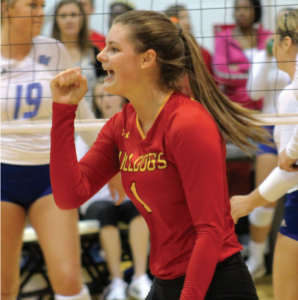 Ferris volleyball's Maeve Grimes is a sophomore setter that has played well in her first two seasons as a Dawg but is often overshadowed by sophomore Allyson Cappel.
Grimes' impact this past weekend, however, cannot be ignored.
The Bulldogs matched up with two GLIAC opponents in Big Rapids this weekend, with Saginaw Valley on Friday, Nov. 3 and Lake Superior State University (LSSU) on Saturday, Nov. 4.0
While Grimes doesn't get the glory of an outside hitter, she did manage to put up some outstanding numbers on the court.
In Friday's matchup with SVSU, Grimes managed to record 36 assists, one kill and six digs en route to a Bulldog 3-0 sweep.
Saturday brought more gaudy numbers for Grimes when the Dawgs took on LSSU. Grimes posted yet another 36 assists and added one kill and nine digs for the team's second 3-0 sweep of the weekend.
72 assists total over two games is a jaw-dropping figure but that's nothing compared to the 972 assists Grimes has recorded this year alone.
With consistent play from Grimes and big performances from surrounding players, the Bulldogs have a solid 19-6 overall record and stand at first overall in the GLIAC with a record of 12-2.
The volleyball team will look to continue their stellar season when they finish up regular season play at 5 p.m. Friday, Nov. 10 at Northern Michigan University.
Click here to see who received last week's Top Dawg honors.