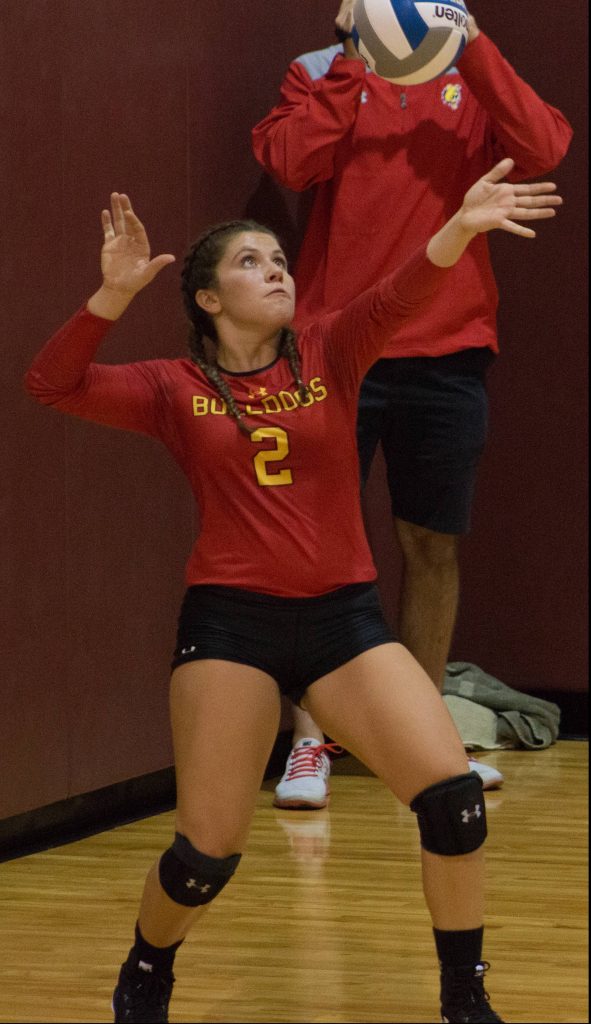 On Senior Day weekend, Ferris women's volleyball senior libero Lauren Reminga recorded her 1,000th career dig.
Digs are an important part of volleyball—keeping the ball from hitting the floor on any given spike can be the difference in any given match and Reminga has been one of the best at doing just that.
"It felt great to be honored for the work I have put in the last four years and it made me happy to have my teammates by my side to celebrate during senior weekend," Reminga said.
Lauren Reminga is a senior from Hudsonville in the Ferris respiratory therapy program. She committed to playing volleyball for the Bulldogs back in 2013.
"I came here for volleyball, essentially. However, I also loved the school size and how far it was from home and the girls on my team were awesome," Reminga said.
Reminga is currently fifth in the
GLIAC in digs per set with 4.90 and fourth in the conference in total digs with 461.
Reminga is a part of a senior class that was honored over the weekend of Nov. 3 and 4, for their success in recent years, posting an overall record of 106-21, making three-straight NCAA playoff appearances, two-straight NCAA Midwest Regional Finals appearances and claiming four straight regular season GLIAC Championships and three-straight GLIAC Tournament Championships.
"There was a lot of things we wanted to accomplish as a freshman class coming in and over the years we have been able to have success with our goals," Reminga said. "We are a very close class and have become best friends over the years and we are also special because we like to have fun at all times."
The team is currently coming of undefeated in the Upper Peninsula where they captured wins over Northern Michigan and Michigan Tech last weekend.
The team also won their fourth consecutive regular season GLIAC Championship with the wins last weekend.
The Bulldogs improved to 20-7 overall on the season and 13-3 in the GLIAC.
The team earned the number one seed for the GLIAC tournament and will host eighth-seeded Ashland University on Nov. 15 in the Quarterfinal round at 7 p.m. inside Ewigleben Sports Arena.
Okay, that's pretty cool, but did you know that Reminga has also saved someone's life? Read that story by clicking here!