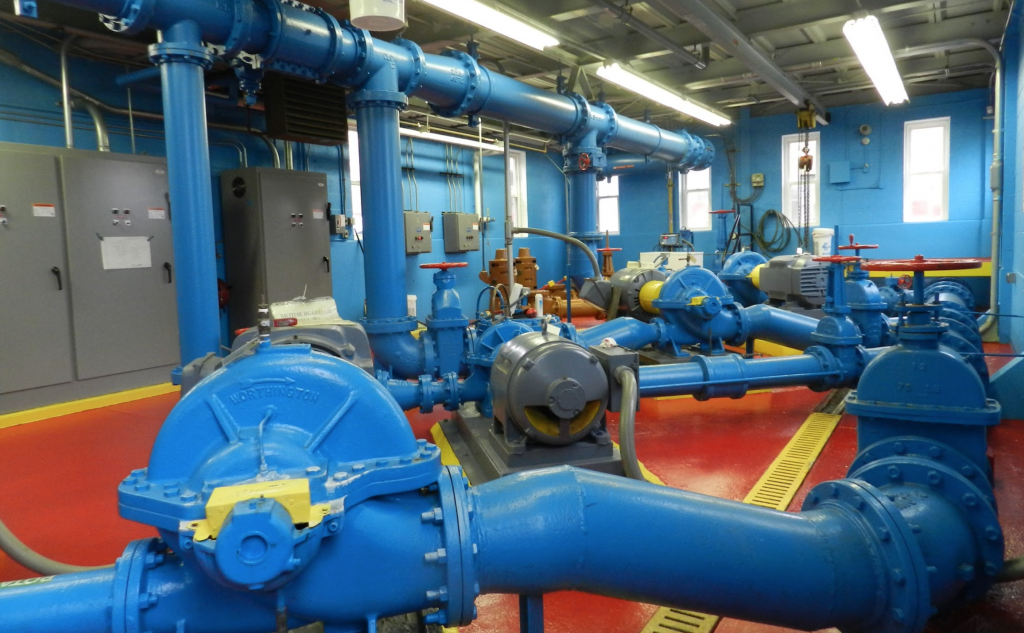 Recent reports have revealed that the average level of lead in Big Rapids water is three parts per billion (PPB) but residents of the city can, for the most part, remain calm.
According to Big Rapids City Manager Mark Gifford, the city takes numerous precautions to ensure high quality drinking water.
"[The water plant] was originally built as a surface water treatment facility so there was an intake out in the river, it drew water out into the plant and it was treated and distributed out," Gifford said. "In about 2000, they changed that and now our water comes from wells that are out by the airport."
This change from river water to wells has made a significant difference in the quality of drinking water.
"When the water was taken out of the river, you can imagine there was a lot more opportunity to be, not contaminated but have contaminants in it. So that's changed," Gifford said. "Going to ground water made it so we had a much more stable water source so the water that comes out of the ground is the same tomorrow as it was yesterday."
But the source of water wasn't the only change the city made, especially after the famous Flint water crisis.
"It's really pretty fascinating and every day that water is sampled. Every day, 365 days a year, somebody works at the water plant. Every day, no weekends off, no holidays off and there's rigorous standards to that treatment," Gifford said. "And what comes out of the water plant has zero lead, zero copper and all those things people worry about. There's nothing in the water that should worry anybody when it comes out of our water plant."
These rigorous standards were confirmed by the superintendent of the water plant, Steve Cook, who explained the filtration process. The water is treated for iron and magnesium before it reaches one of the three filters, and a minimal amount of chlorine is put into the water at the head of the plant.
After the water is filtered, it goes into one of the two reservoirs, where it remains until distribution needs it. The water is then gravity-fed into high service pumps, which send the water to one of the four water towers.
It's important to note that fluoride and phosphate are added to the water. The phosphate protects the water from the pipe and other contaminants in the pipe. When the water leaves the plant, it has zero lead in it and the well water is also tested each year.
"If there's something in those test wells that come back bad, that gives us a 10-year window to move our wells to a different aquifer and stuff like that before it actually reaches the wells themselves, and so that's tested every year. All four wells are inspected every year, tested for performance and cleaned and things like that," Cook said. "And so it's pretty maintenance intensive, I guess, for a lack of a better term. We go through and just make sure we're not going to have any troubles with the water supply."
So with such an extensive process completed by the city, how does the lead get into the water?
"Now, we used to [test] it once a year, now we do it twice a year and many more locations. And what they mandated is that you try and find contaminated places," Gifford said. "So we did all these samples, all across town, in all these targeted locations and 90 percent of those come back with nothing in them. No lead—zero. Very few of them come back with very small amounts of lead and how it gets there is from the contact with the plumbing in somebody's home or apartment or that kind of thing. That's where it gets into the water but it's very rare."
Older homes that have outdated plumbing are more likely to have lead contaminants in the water than newer plumbing systems but regardless, it is the homeowner's responsibility.
"And so what the city does is provide an opportunity for anyone, not just city residents to have their water sampled and see if, in fact, their plumbing is in any way affecting the drinking water within their own homes or businesses," Big Rapids Public Works Director Heather Bowman said. "That's a service that has been available for a very long time."
According to Cook, anyone who is concerned about the quality of their water can have it tested by the city for $26. More information about where to get the testing supplies and how to test your water can be found by contacting the city water plant at (231) 796-6231.
Click here for more coverage of water quality in Big Rapids.