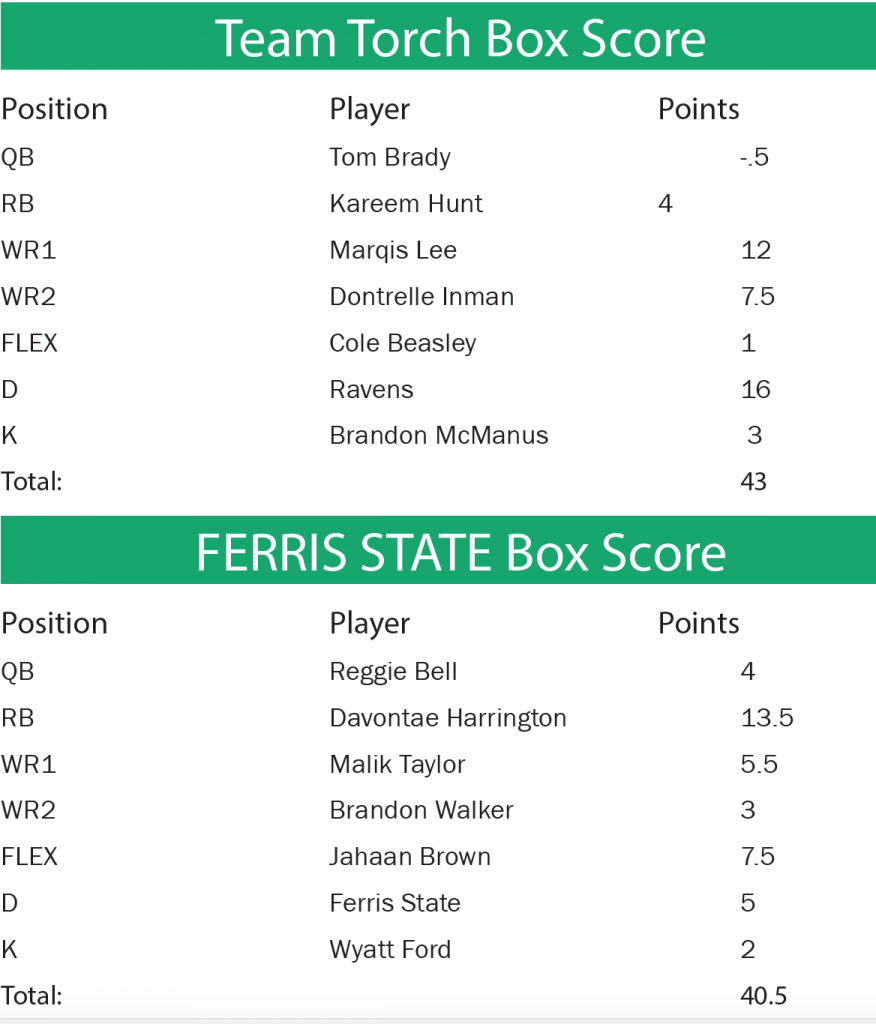 The Beaullogs have finally received a victory thanks to Wyatt Ford's fantasy picks but the win feels bittersweet as the 2017 Ferris football season has come to an end.
Ferris' 16-14 loss to Harding in the NCAA Division II National Quarterfinals marked the second and final win of the fantasy season for the Beaulldogs but the score was close. A 2.5-point victory could've been a larger win for the Beaulldogs if the man considered to be the G.O.A.T. would've showed up to play. Tom Brady came away with a negative half point in a victory over the Buffalo Bills. I'm not sure how that can happen but of course, the numbers don't lie, even for Brady.
Bulldog QB Reggie Bell came away with only four fantasy points in his slowest performance of the season, gaining only eight yards on the ground but throwing for 124 yards.
Davontae Harrington was the breadwinner for the Bulldogs in their quarterfinal contest with two touchdowns on the ground on just 17 rushing yards, corralling 13.5 fantasy points. His counterpart on the NFL side, Kareem Hunt, had a lackluster day with four fantasy points in a loss to the New York Jets.
The Bulldog receiving core of Malik Taylor and Brandon Walker came away with just 8.5 combined fantasy points. Their NFL opponents Marqis Lee and Dontrelle Inman came away with a combined 19.5 points, two sleeper picks from celebrity guest picker Wyatt Ford that did not disappoint.
Jahaan Brown came away with 7.5 points for the Bulldogs as the second highest scorer for Ferris. Cole Beasley, even in a big 38-14 win over the division rival Redskins, only came away with one fantasy point.
The big winner for my fantasy team was the Baltimore defense, putting up 16 points against the Detroit Lion offense, as much as that hurts me to say. Ford didn't get a chance at a field goal for Ferris but he was able to chip in both extra point attempts.
Thanks to all who stuck with the Beaulldogs this season as they were walked all over by Ferris football and thanks to Wyatt Ford for lending his talents to my fantasy team this week.
On the bright side, with a 2-11 record we may get a shot at the first round pick in 2018, unless the Cleveland Browns have anything to say about it.
Click here for last week's edition of Ferris Fantasy Football.