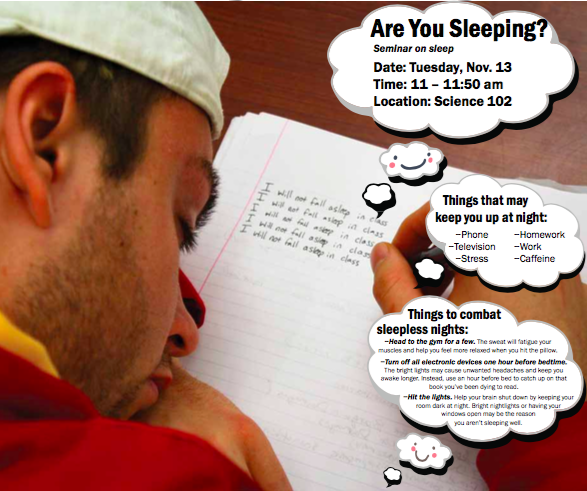 Article by: Alicia Jaimes and Marissa Russell | Lifestyles Editor and Interim Reporter
As Ferris psychology freshman Olivia Harvitt closes her eyes at night, she struggles to stay asleep.
Though she gets about seven hours of sleep a night, Harvitt says a lot of that time is spent waking up throughout the night, and she reminisces on the days where she'd "sleep like a rock."
School, laundry, cleaning and other responsibilities often drift into Harvitt's mind as she lays down for the night.
"I'm a very bad sleeper. Sometimes music helps, and sometimes it makes it worse. It has to be cold though; I can't have it hot. So I have my window open all the time, so it's pretty cold in my room," Harvitt said.
Harvitt also believes that drinking a lot of water throughout the day helps her sleep better at night and not wake up constantly due to dehydration.
With only six hours of sleep a night, Ferris biology freshman Andrew Valdez feels that his rest has gotten better since coming to Ferris.
"I used to wake up with really bad head- aches almost every day, and ever since I moved to school, I don't think that's ever happened," Valdez said.
Though Netflix and YouTube are what keeps Valdez up at night, he also uses these sites as white noise to fall asleep to.
Although Valdez gets less sleep on average than Harvitt, it seems Valdez feels better about the amount of sleep he gets per night. Ferris Retention and Student Success Academic Adviser Timberly Boezwinkle, however, would consider that teetering on the edge of potential sleep deprivation.
"Everyone is different; however, the recommended hours of sleep per night for people between the ages of 18 and 23 is seven to nine hours per night. How much are they getting? It is hard to tell, but my guess would be three to six hours per night, and often much less," Boezwinkle said.
According to Boezwinkle, this kind of sleep deprivation can cause moodiness, inability to concentrate, lack of motivation and even depressed moods. Though she doesn't consider herself a sleep expert, she has had many years dealing with sleep and how to combat restless nights. Because of this, she will be hosting "Are You Sleeping? How Sleep (or the Lack Thereof) Affects Your Academic Success" Tuesday, Nov. 13.
"In this presentation, I talk about how sleep affects the learning process, and how simple changes in their sleep habits can make a huge difference in their ability to learn and perform academically," Boezwinkle said.
During the presentation, students will assess their sleeping habits, learn to power nap and be given tools to help them fall asleep at night.
Boezwinkle strongly believes that improving the quality of sleep is within students' control. All it takes is some effort and a lot of commitment.
For more information on sleep and how it can affect you, visit Boezwinkle's Are You Sleeping? seminar 11 a.m. Tuesday, Nov. 13, in Science 102.