By: Noah Poser and Mollie Hamelund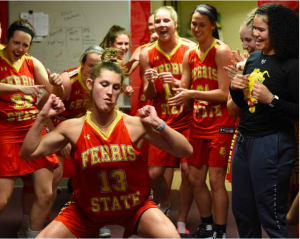 Every team has their own way of preparing for a game and for the Ferris women's basketball team that includes a dance party in the locker room.
Music has long been recognized as not only a source of entertainment, but also as a device that allows the human brain to focus on upcoming tasks, and it's fair to say that the team has taken that message to heart.
The players have their dance parties before every game. Not only that, but they have them before practice, too.
"Yeah it's not formal or anything, it's just something we do to loosen up before games," Ferris junior guard Renee Sturm said. "We always have music playing in the locker room when we're in there before practice and before games. We have people who are really fun when they dance, too, like Shi, Riley, Abby. It's just how we get ready."
However, being a fun dancer doesn't necessarily mean that the players are good dancers. According to Sturm, the best dancers are not always the ones who bust out their groovy moves before every game.
"Riley thinks that she's the best but she's definitely down there at the bottom," Sturm said. "Adrienne is low-key pretty smooth but she won't dance in front of anyone, and Shi's pretty smooth, too."
A lot of teams like music to allow them to lock in before games. The Ferris women's basketball team is the same way, but they direct that energy in a different direction. While few teams go to the extent of having full-on dance parties to prepare for a battle on the hardwood, the Ferris women's basketball team has a very clear reason for doing so.
"They're just a reminder that the game we play every day is supposed to be fun and enjoyable, because sometimes it's easy to forget that, being how serious we all take the season," Ferris sophomore guard Adrienne Anderson said. "It's just something we do to get a laugh before the game and to lighten the mood while still understanding the severity of every game."
According to Ferris junior guard Riley Blair, the tradition started two years ago when the team traveled to take on a Saginaw Valley State University squad that was at the top of the league. Ferris, however, sat down at the bottom, having just four wins despite being very late into the season. Everyone was upset and just going through the motions, so Blair busted out her moves to try and put a stop to it.
"I started dancing," Blair said. "Then I passed it along to someone and they started dancing. We ended up losing the game by only two in overtime to a team that was way out of our league at the time. I think it just showed that no matter how talented you are, if you're playing uptight and you're not having fun then you're not going to be able to compete."
And thus began the tradition that has stuck around to this day. It doesn't look like it's going anywhere anytime soon, either, and any genre in music brings up the group's mood.
"We have quite the mixture of songs. We have some rap in there. We throw some country in there occasionally. Whatever comes on, we can dance to anything," Blair said. "We could dance to Beethoven, it doesn't even matter."