Article by: Megan Lewton | Editor in Chief
Student quotes contributed by: Madison Kettlewell | Torch Reporter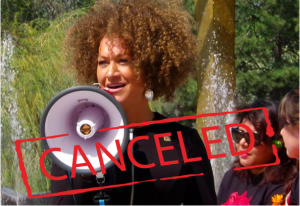 What was originally intended as an educational campus event sparked a controversy that spread across social media, prompting the cancellation of the event altogether.
The Ferris chapter of the Public Relations Student Society of America (PRSSA) announced they planned to bring Rachel Dolezal to campus at the end of March to speak about African history in modern society. Dolezal was the former president of the Spokane, Washington, chapter of the National Association for the Advancement of Colored People (NAACP) and is known for falsely identifying as black when she has no known African ancestry.
The announcement of the event was described by Ferris business administration senior Marisa Durant as "a slap in the face," and many others agreed.
"I'm pretty sure there's plenty of people they could've found of color to come and speak on that specific topic," Ferris sociology senior Durshana Kirby said.
Ferris public relations senior and PRSSA President Ashley Finstrom said a few students in the organization chose to invite Dolezal to campus after watching her documentary in May 2018. The registered student organization began scheduling the event in May and continued the planning process throughout Fall 2018.
"The purpose of this event was to engage the campus community in an educational and diverse discussion on race. PRSSA shares the university's commitment to opportunity, diversity and learning, especially in regards to sensitive topics and differing perspectives," Finstrom said.
During the planning, the organization had to find sponsors to bring Dolezal to campus. Among those asked to sponsor the event was the Office of Multicultural Student Services (OMSS), who was approached about the matter by a student in May 2018.

"I declined the offer for OMSS to co-sponsor and suggested that he have a conversation with Diversity and Inclusion Office about the event, as well as advised him to reach out to multicultural organizations to see if they were interested," OMSS Assistant Director Michael Wade said.
The event was ultimately funded by the Student Activity Fund and was sponsored by The College of Business Dean's Office and the Office of Diversity and Inclusion.
In a now-deleted Facebook post, PRSSA shared the event onto their profile Wednesday, Feb. 27, the day they announced it via email. The post received many comments, the majority of which were negative, containing requests for PRSSA to cancel it.
Hours later, PRSSA made another post saying the decision to bring Dolezal to Ferris was under review, which received 18 reactions and comments each.
"We have heard your concerns expressed about the Rachel Dolezal event that is scheduled for Monday, March 25 on the Big Rapids campus. Our organization is evaluating your feedback and giving it strong consideration," the post said.
However, the negative feedback continued, with angry students and alumni expressing their disapproval in the comments section. In addition, 22 people gave one-star reviews concerning the Dolezal event on the PRSSA Facebook page; as these were the only posted reviews, they have given the page an overall one-star rating.
PRSSA held an emergency meeting Thursday, Feb. 28, to discuss the event's future. The organization ultimately decided to cancel the event, a choice that did not come easily.
"It was a difficult decision, but ultimately, it became clear that our goal of facilitating a tough conversation wasn't going to be reached," Finstrom said.
PRSSA also held a discussion Thursday, Feb. 28, following the event's cancellation to allow students to express their thoughts and show how the situation has affected them.
After PRSSA announced the event's cancellation via Facebook post Thursday, Feb. 28, some comments expressed forgiveness, but the majority of the 33 comments were filled with upset people wishing Dolezal was never hired in the first place.
Many students, like Ferris integrative studies senior Thomas Murry, are pleased with PRSSA's decision to cancel Dolezal's presentation.
"I'm glad that they cancelled the event and not let it continue to go on. If they were going to let it continue to go on, then this whole campus perspective would have changed. A lot of stuff wouldn't really be positive, you would just be having a lot of negative activity going on," Murry said. "In reality, it just touched a lot of people on this campus in a very negative way. So, I'm glad that they actually cancelled the event, but from here on out, there will be other accommodations to the point where we will never see this happen again."
Durant, on the other hand, doesn't believe PRSSA's apology was genuine.
"I went to the meeting yesterday with PRSSA and I just don't really, though we expressed how we felt about it, I don't feel as though their apologies were really sincere. It honestly felt like a public relations apology, in all honesty, and I just think that we deserve more on campus," Durant said.
Kirby is surprised that no one put a stop to Dolezal's presentation before it was scheduled.
"I know they probably had to present in front of the finance division, and all of these things have to get approved, so it's like, nobody saw an issue with this? No one thought that there might be an issue?" Kirby said.
Murry agreed that there is some blame on the university for allowing the event's approval.
"Another thing too is the school. I feel that if you're giving people funding to bring her up here, knowing that it was going to create chaos and everything like that, then how is it easy for them to get funding for an event through the finance division? And we have other student organizations here on campus that work their asses off to get money from the finance division, and we can't even get money from them," Murry said.
According to Finstrom, PRSSA is working with Student Affairs and the Diversity and Inclusion Office to help make amends, and they plan to contact other organizations to prevent this from happening again.
"When something like this affects so many people in a negative way, all you can hope is that something positive arises from it. My hope is that the discussion continues and moves us toward growth and empathy for one another," Finstrom said.
Durant hopes PRSSA will see just how significantly the scheduling of Dolezal affected students.
"Look, when you're scheduling an event for a whole campus, you need to look from all different perspectives. How will this affect me? And I think as public relations, that's one of the top things you should be looking at. This was just a really, really, really big mess up. I just wish that they really just understood how it hurt us. It really did hurt us," Durant said.