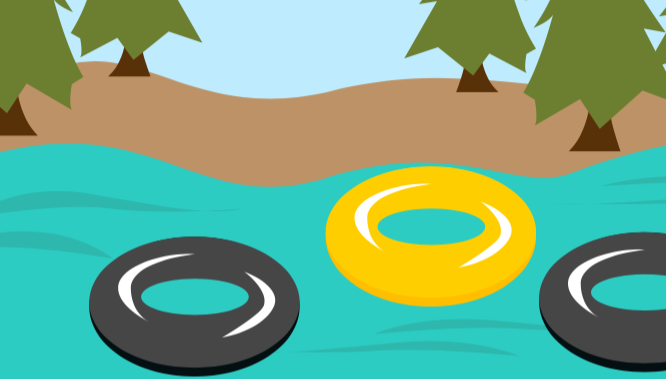 The Muskegon River is a big hot spot for people of all ages during the summer.
Many students staying in Big Rapids during summer have struggled to find things to keep themselves entertained all break long. However, some students have taken advantage of the beautiful Muskegon River in town and have been known to go tubing down it.
Tubing, also known as inner tubing or bumper tubing, involves riding an inflated inner tube down a moving body of water, typically a river. Tubing is an excellent way to destress from the previous school year and rejuvenate for the upcoming one.
"I had a good time, definitely would go again. I was going to go last Saturday but it was too cold," Ferris mechanical engineering junior Jacob Vreeman said.
Vreeman said he has tubed about seven times and he normally starts his trip by accessing the river near the Gypsy Nickel and rides it until Hemlock Park.
Many people that tube generally own their own equipment, but for first-timers, there is another option. There are companies — like J&J's River Run in Evart — that will rent out their equipment and walk customers through the process of tubing.
When choosing a service, remember they will need to know where the trip will begin and end, to help determine charging fees. For more freedom for the river trip, it's recommended to own a tube.
When going on the river, it's important to plan ahead. Ferris pre-pharmacy freshman Christina Hatfield has been tubing down the Muskegon River her entire life. She suggested not to bring phones, or have them attached to something that won't fall in the river.
"They should also bring closed-toe shoes, crappy tennis shoes or Crocs — something they don't mind getting wet," Hatfield said.
While tubing can be relaxing and fun, it is necessary to be aware of some of the dangers. While the Muskegon River doesn't have sharks or aquatic predators, it is known to have random shallow and deep parts of the river. It is very important for tubers to check the water depth before getting out of a tube. It's also dangerous to drink while tubing. Due to the water being deep in random areas, there is a chance of drowning when one is not completely coherent.
During a trip down the river, enjoy the time with friends and have a relaxing time.