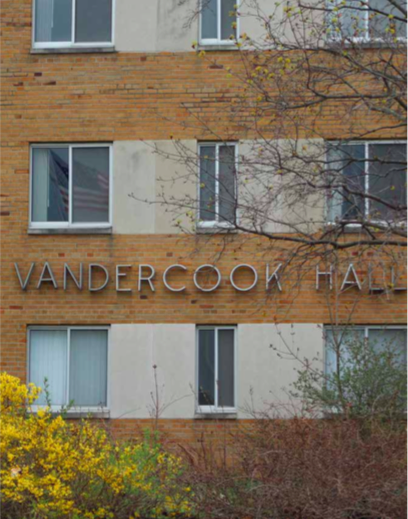 Ferris is hopeful of demolishing Vandercook Hall within the next twelve months and replacing it with the Center of Virtual Learning.
The Center of Virtual Learning (CVL) will be intended for the use of visual arts majors.
Before construction can begin, Ferris is awaiting the approval from the State of Michigan.
"We are optimistic that we might get construction approval for the CVL sometime in the next 12 months," Associate Vice President for Physical Plant Michael Hughes said. "If we get the approval during the academic year, we would wait until the end of the year so as to not disrupt residents living in Vandercook."
Following the construction of the Center of Virtual Learning, most students whose majors are focused in Bishop hall will be relocated to the CVL. This move excludes the criminal justice program, which will relocate to the IRC as well as the Early Learning Center, which is yet to be assigned a new building.
Bishop Hall was once a residence hall and was converted to an academic building in the 1980s. Due to the limitations of Bishop's former hall status, the building had many deficiencies, including columns in the middle of classrooms and an inadequate HVAC system. This also includes the fact that it is excluded from the center of the academic quarters of campus.
"I'm excited because my major is in the visual arts. We need that building." Ferris television and digital media production freshman Desteny Tate said. "The visual arts need better representation than Bishop because Bishop is hidden."
The project will cost $29,500,000 in total and the State of Michigan may fund 75% while Ferris will pay the other 25% of the cost. When the project is finally underway it will take 24 months to complete.
With the talk of a new building spreading around campus, it has many Ferris State students excited to see the final result.
"I think that is a step in the right direction because some areas on campus definitely need a little revitalization. The campus has been holding up well through time, and it's a pretty well-nourished community," Ferris applied speech communication student Ryan Tucker said. "I think that new buildings, renovations and all that are definitely important for school culture.
The new CVL building is especially important to the visual game design program, which is ranked in the top 40% of the country, according to Tate.
Not only will the CVL be beneficial to programs at Ferris but it will also change the way that the university is viewed as a whole and even has university officials excited.
"I believe the new building will be another landmark piece of architecture next to the FLITE building at the front doors of the campus that we will all be proud of," Hughes said.