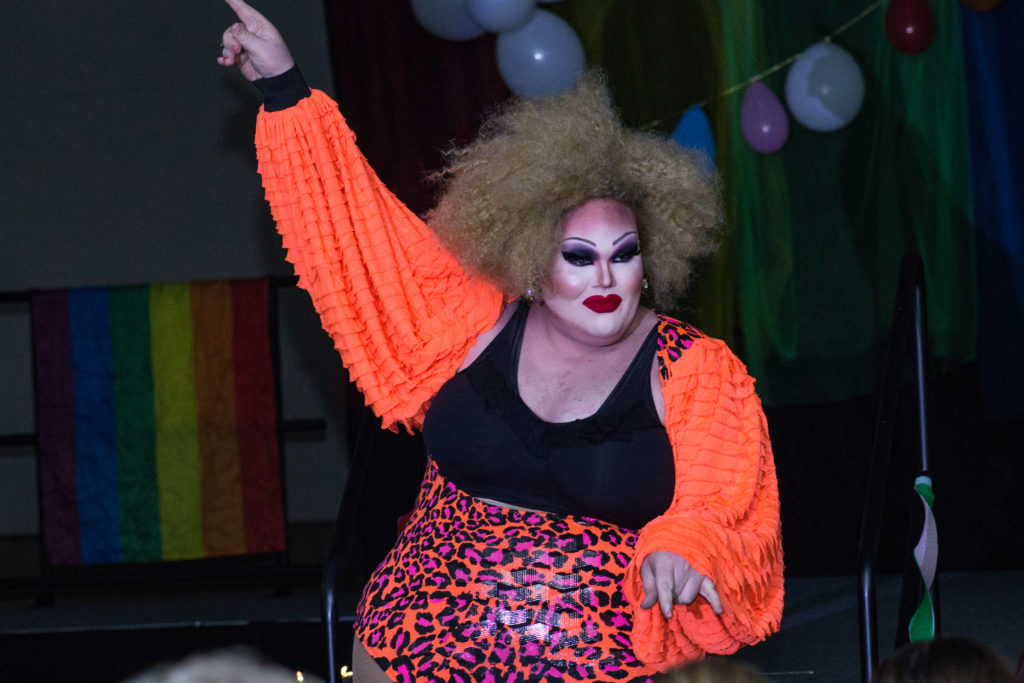 The Diverse Sexuality and Gender Alliance (DSAGA) Drag Show had everyone strutting their stuff.
This event was hosted 7:30 pm Friday, Oct. 11 in the University Center (UC).
The Drag Show had a very simple concept: have queens show off their look and the audience vote for who they believe should be the winner. The show runs similarly to a beauty pageant. The audience voted for who they loved the most by something DSAGA referred to as the "yas radar." Whoever got the most screams won the competition.
According to DSAGA President McKenna Schafer, there was a lot of fundraising involved in making this possible. They charged $5 at the door for students and $10 for the general public. All the proceeds went to the Trevor Project, a project that supports LGBTQ+ community members' mental health with a 24-hour hotline.
According to Shafer, inclusivity was the goal.
"It's so important that everyone feels like they have a voice. By educating and standing up for what we believe in is the best way to plant a seed," Schafer said.
Without a doubt, this show has at least brought awareness, and hopefully, that will lead to acceptance and will create an inclusive feeling like Schafer was hoping for.
"I thought it was a really cool and eye-opening experience." Ferris psychology junior Jensen Spicer said.
Many students were surprised by how much they enjoyed the performance.
"It was awesome, a lot better than I thought it was going to be, and I didn't know what I expected," Ferris business administration senior Natalie Rogers said.
There was a sizable crowd for the event and everyone seemed really supportive of this show. It was also hosted on National Coming Out Day, which was referenced by DSAGA members on multiple occasions.
"I'm looking forward to people having fun," Ferris marketing and graphic design junior Essence Jones said.
The UC ballroom was set up like a beauty pageant and set a serious, yet fun tone for the entire event. Five drag divas performed both onstage and off, interacting with the crowd to sing, dance and accept tips. The songs the queens performed to varied from upbeat and cheerful, to slow and dramatic.
In honor of Coming Out Day, parts of the show were dedicated to the importance and difficulty of coming out.
"Don't be afraid to be your real self. Trust me, I know from experience," Drag Queen Britney Blitz said.
Drag Queen Zuzu Bella expressed a similar sentiment.
"It does get better. Be your authentic self. People will love you for who you are," Zuzu Bella said.