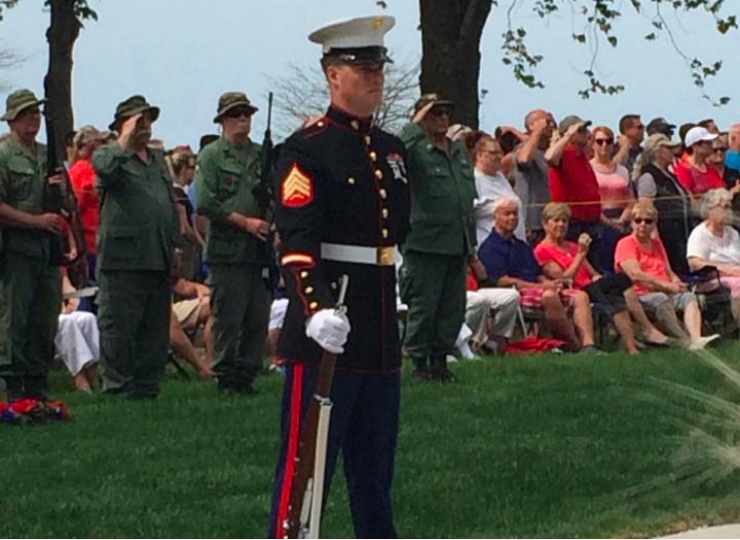 Ferris has a few resources and events on campus that support and honor students who were or are active duty for any branch of the military. The most focused resource on veterans is the Veterans Resource Center, located in the University Center past the Center for Leadership, Activities and Career Services.
"I joined the Marine Corps because of history," said Ferris history junior and U.S. Marine Corps veteran Larry Bogus said. "Also, my uncle was a Marine, too, and I thought it would be cool for me to outrank him when I got done, and I did. For schooling, for being five years active duty, I get 100% for the GI bill. My school is paid for: tuition, books and housing."
Veterans Day is important for many people, especially Veterans. It is a way for a community to come together to honor those brave enough to risk their lives for our country.
"Veterans Day, to me, reminds me of why I put my uniform on. I am part of the American Legion, so going, seeing and hearing the stories from past generations that served in Vietnam, Korea and Desert Storm, it gives me a lot of respect for the men and women who take the time out of their life to put forth their ability to sacrifice themselves," Bogus said.
It is crucial to hear stories of the past, honor those whose lives were lost and respect those who are still around to tell their stories.
Ferris Assistant Director of Veterans Services Jacob Schrot currently serves as a staff sergeant in the U..S Army. February 2020 will mark his 16th year of service.
"Veterans Day is a special day for me because it is a time to recognize all who have served our country," Schrot said. "It is a time to reunite with brothers and sisters that we have served with."
Schrot also recognizes the days leading up to Veterans Day because Nov. 9, 2001, was the day of his graduation from basic training, and the Marine Corps' birthday is Nov. 10.
Ferris has at least two events to honor Veterans Day. One is a Veterans Day Concert hosted by Director of Instrumental Concert Ensembles Scott Cohen. This concert will be Sunday, Nov. 10.
The second event is a Veterans Day Breakfast celebration hosted by President Eisler's office and the Veterans Resource Center, on Veterans Day, Monday, Nov. 11.