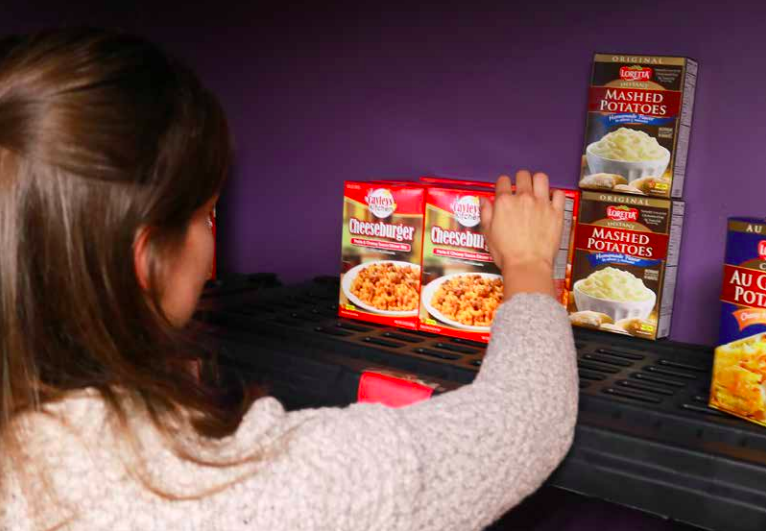 Food pantries in Big Rapids are preparing for the holidays, and seeking help to provide food to as many families as possible.
Project Starburst, located in the basement of The United Church of Big Rapids, as well as other food pantries throughout Big Rapids, do their best to provide turkeys to families on Thanksgiving and Christmas but can only do so when they are donated.
"Because we are a food bank, it makes it difficult to know what we may need in reality, so what we do sometimes is instead of separating Thanksgiving and Christmas, we just do it for the whole month of December," said manager of Project Starburst, Diane Long. "So what we do at that point is we try to add different types of foods like sweet potato, or pumpkin or peanut butter cookies mixes, what we think of as holiday foods to help with the family."
Food banks are essential in helping to include everyone among the community in holiday festivities. Project Starburst accepts donations and is one of the main ways most food banks help serve the community.
Some Ferris students believe that the university should become more involved in helping these important facilities thrive in the community.
"Ferris needs a better social media presence to get the word out about food pantries. I know that Ferris students like to help the community and do like to donate to food pantries, but it's hard when you are not aware of the opportunities," said Ferris forensics biology junior Heidi Stauffer.
Student involvement is important because Ferris students make up a large portion of the Big Rapids community. In fact, Ferris has more students than the entire population of Big Rapids. Some students believe that with the help of Ferris, Project Starburst, as well as all food pantries in Big Rapids, could benefit. The holiday season provides a great opportunity for the university to promote volunteer work to students.
Carissa Makeielski, a freshman at Ferris, volunteers with Project Starburst and feels strongly that Ferris should promote these opportunities to students.
"Ferris could help by reaching out to multiple organizations and RSO's and asking for volunteers and donations by expanding on the connections they may have in their organizations," Makeielski said.
Project Starburst provides meals to over two hundred families a month, providing approximately 13,000 meals a month.
For more information regarding opportunities for volunteer work, or to donate to local food pantries, visit Ferris State's and Project Starburst's website.