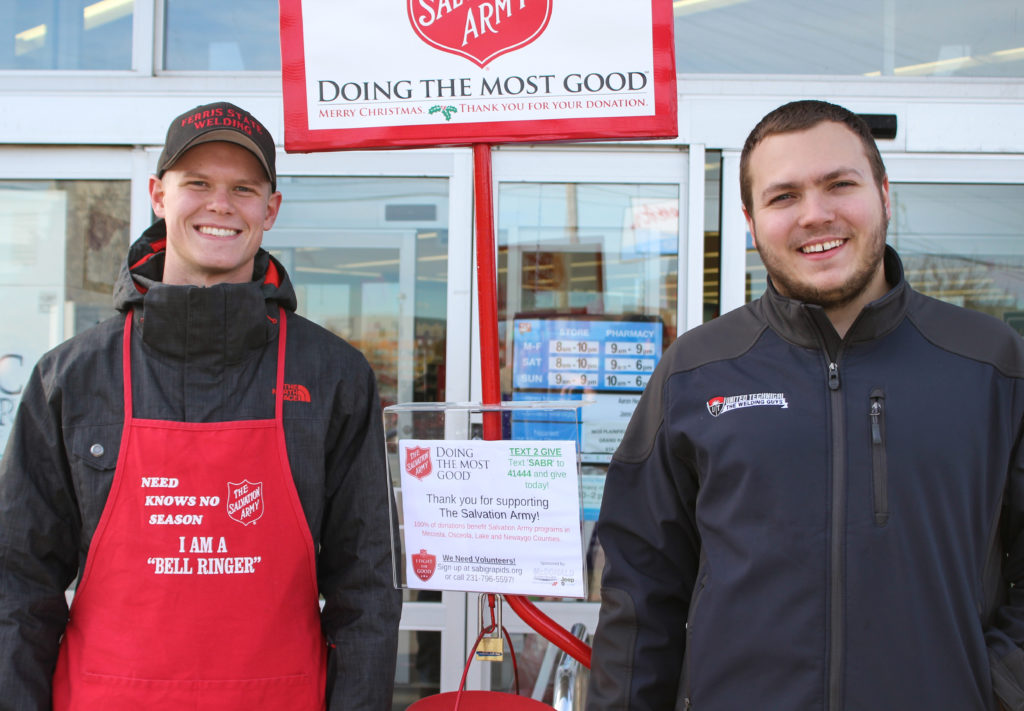 The holiday season is a huge time for volunteers and there are many opportunities in Big Rapids for students to give back.
There are many places that love and need volunteers during the holiday season, starting now. Volunteering also looks great on resumes for all types of majors. Some stores and organizations even offer volunteer opportunities over winter break. With many students leaving for the break, companies need volunteers to fill in.
For those more interested in helping animals than humans, there are opportunities at the Animal Rescue Coalition (ARC), located at 18400 220th Ave. in Big Rapids. During school sessions, they normally have 50 to 100 volunteers. With exams and the holiday season approaching, they are becoming desperate for help.
"We have less volunteers during the holiday season, and we absolutely need more during the holiday season. What our volunteers do is choose either 7 to 9 in the morning or 5 to 7 in the evening to work," ARC Director Cate Arroe said.
ARC volunteers can help out on the cat side or the dog side of the humane society. This is decided by answering a few questions over the phone about the student's interests. ARC then chooses the best position for the volunteer. Volunteers on the cat side are responsible for cleaning, feeding and socializing with the cats. Volunteers on the dog side take the dogs on walks for two hours of the day. For those interested in dogs, ARC prefers people who have some experience walking dogs.
ARC also prefers volunteers to have cars because the society is not within walking distance of the school.
For anyone interested, contact Arroe at (231) 796- 2683.
For those who live off campus and get bored over the break, there are likely many opportunities in your area. Some of these include working at a food pantry, helping out for galas and ringing bells with the Salvation Army.
Volunteering is a good way to feel better and get experience for the workforce. It also helps students stand out to employers, which can be helpful for those anxious about entering the workforce. Most volunteering opportunities only require a few hours of service a week. It can be a great way to show the holiday spirit and give back to the community.
Winter volunteer opportunities
Animal Rescue Coalition
What: Volunteers are needed to walk dogs and clean, feed and socialize with cats
When: 7 – 9 a.m. and 5 – 7 p.m. weekdays
Contact: Cate Arroe: (231) 796-2683
Annual Chamber of Commerce Gala
What: Ten to 12 volunteers are needed to help at their 34th annual holiday gala
When: 5 – 11 p.m. Friday, Dec. 6
Contact: Jennifer: djbuwalda@nullmecostacountry.com or (231) 796 – 7649
Mid-Michigan Community Action Agency
What: Volunteers are needed at the Reed City United Methodist Church
When: The third Thursday of every month:
Contact: Sheri Nartker: snartker@nullmmcaa.org or (989) 386 – 3805 extension: 1024
Mecosta-Osceola ISD
What: Volunteers are needed to babysit while parents attend meetings.
When: 5:30 – 9:30 p.m. Mondays and Wednesdays
Contact: Shelby Vanscoyoc: scanscoyoc@nullmoisd.org
The Salvation Army
What: Volunteers are needed for bell ringing and holiday season assistance
When: Times vary
Contact: jdbuwalda@nullmecostacounty.com