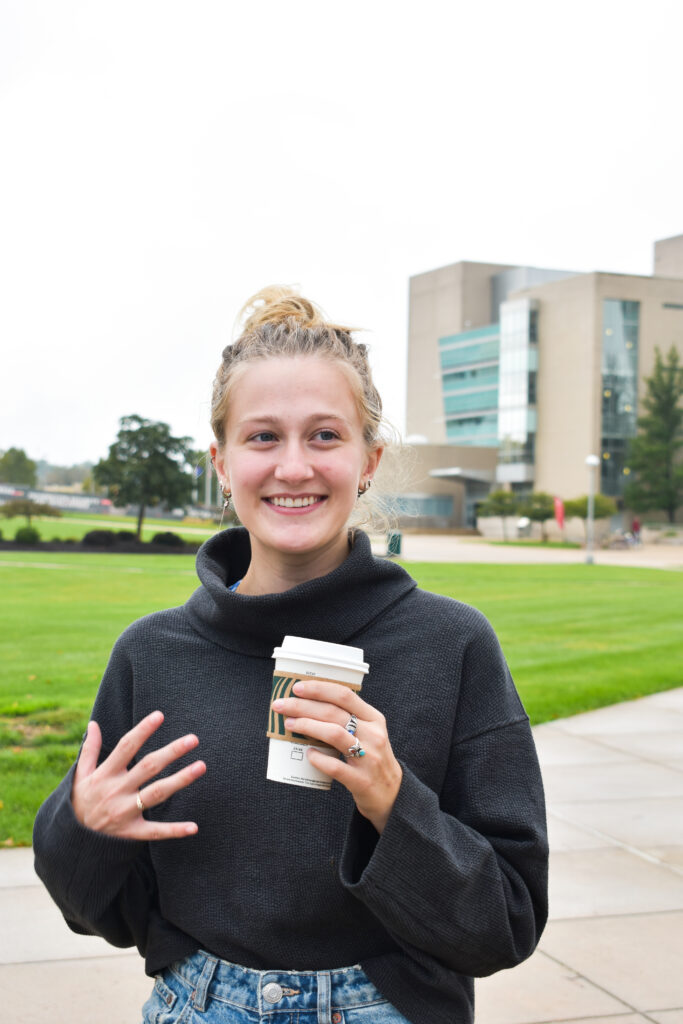 Mackenzie Kidder starts off the same each day with her dog Murphy, a high-energy English lab hound mix.
Walking the same streets she did as a child, Kidder being a Big Rapids local, Murphy burns energy, while Kidder is just getting started.
She goes straight to work for the housing department from the morning routine, organizing future tasks, answering phones, and running errands for faculty members.
After work, if it's a Monday, she heads to class. Following class, she goes to the Wesley House Food Pantry, where she fills online orders for students to pick up. Volunteering usually lasts from 4 p.m. to 6 p.m.
After volunteering, Kidder has an hour of free time before she must return to her demanding schedule. She dedicates this free hour to Murphy, returning home to play with him and expel any more energy he may have.
Following her hour off, she heads to her chapter meeting for Alpha Xi Delta where she holds the position of membership Vice President. This meeting typically runs from 7:00 p.m. to 9:00 p.m.
This may seem like a lot of work for one college student to handle, but there is one key aspect to point out in this story; that was only her Monday. That being said, she does not see this time working and volunteering as a sacrifice, as she feels this is the college experience she is after, and she's determined to absorb everything the university has to offer her.
"I don't think I have made too many sacrifices while being in college besides having to learn quickly that is's okay to ask for help when I need it," said Kidder, "luckily, my family lives locally and have been the biggest support system during my time at Ferris."
With the support of her family, Kidder is able to dominate not only her busy Monday schedule but every other day of the week as well. Tuesday through Friday consists of peer mentoring for her honor students program, mentoring a small group of freshmen honor students, and helping them adjust to college. In lieu of mentoring honors students, she hosts monthly meetings with each of them to stay up to date on how they are doing and how she can help while leaving her line open for them to reach out to her at any time.
Kidder is also the secretary for the communication honor society, Lambda Pi Eta, a member of Order of Omega, the greek life honor society, the president of women's club soccer, and the secretary for Panhellenic Council's executive board.
As if Monday through Friday was not enough for her schedule, she is also a waitress at Two Hat's Ranch, a local hunting lodge.
"Every challenge she faces she overcomes," said Ali Plamondon, Ferris pharmacy student and sorority sister to Kidder, "she leads with humility and open-mindedness, and this is shown in the many organizations she is involved in on campus."
As Kidder approaches graduation, she wishes to pass on a message to bulldogs of the future; to join RSO's to make connections and friends, and not to limit themselves to only your courses and to never be afraid to ask for help.