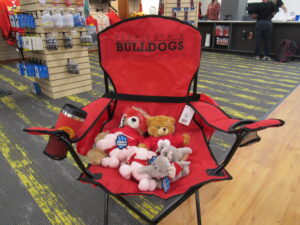 Ferris students and faculty were greeted apologetically by Akademos on Oct. 7 and Oct. 12. In the apology, they allowed students and faculty to express their concerns about their books.
The resulting meetings aimed to allow those who attended to speak freely on what they experienced in the fall, and ask questions about how the problems will be addressed. Akademos also gave a slide presentation on what changes are to be expected in the future, and what faculty and staff can expect this spring.
Many students agreed among the crowd that social media was a great way to reach students directly. They suggested making TikTok's and an Akademos or Ferris Bookstore related Instagram page.
"We want to hear what you guys loved, what you hated [and] what you want to see changed, and we also want to share with you the things that are already happening to make this a very different spring," Kelly Tilstra, senior director of business development at Akademos, said.
Although attendance at each event was low, those in attendance were quick to voice their experiences. The most common problem students expressed was not getting some of the books they ordered. The cause of this was Akademos' decision to purchase a low number of books in the fall, and a surplus of students ordering their books just before the semester began.
Unpleasant customer service was also a problem for students. Some students experienced long wait times and their questions were left unanswered due to the long holds. To combat this issue, Akademos has increased their customer service team by 29%.
According to Tilstra, Akademos is hopeful that with the implementation of their new methods, this additional 29% of customer service representatives will be underwhelmed, instead of being consumed by phone calls in the coming spring. Akademos has also implemented a 24 hour response time standard for all emails. They plan to assign priority status to all calls and emails related to Ferris, putting faculty and students of the university in front of other colleges.
With new forms of virtual and online education rising to the surface more frequently, Akademos will provide students with instant access to online mediums for learning when they order, instead of sending a QR code to the university for pickup.
One student among the crowed admitted to using Chegg, a discounted online bookstore for used and new books. This service can also provide help with assignments related to the specific book.
The student then asked how Akademos stood apart from Chegg. Akademos' response to the question was that they provide students with the opportunity to charge books to their student account, as well as make certain that the books they sell are the exact copy and addition that a professor requires. Adding to their response, CEO Raj Kaji pointed out Akedmos also has a book marketplace where students can compare prices of books online.
"On our website we will have a variety of updates throughout the course [of] the next several months," Kaji said. "As far as overall communication, [there are] plans for chatting with administration in terms of how to have that conversation on a more holistic basis."
Tilstra's closing statement at the meeting encouraged students to inform those that did not attend the meetings to contact them with any questions or concerns they may have.