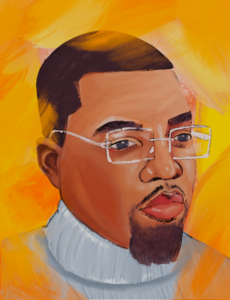 On April 4, when Patrick Lyoya was killed by a Grand Rapids police officer in a traffic stop, Grand Rapids joined cities such as Sanford, Florida, Minneapolis, Minnesota, Ferguson, Missouri and Aurora, Colorado. Cities whose police departments are responsible for extreme acts of police brutality that resulted in the death of a Black man.
After Lyoya exited his vehicle and a foot chase occurred, an intense struggle ensued that resulted in Lyoya being shot in the back of the head while he was pinned to the ground by an officer. Videos of the shooting were released to the public last Wednesday, showing four different angles of the graphic killing.
Many members of the Torch call Grand Rapids their home city. We have walked these streets, we have friends who live in the area and we have driven past the location where this incident took place. So, seeing an act of brutality take place so close to home has been distressing.
Unnecessary, unprovoked police violence is something that should never happen in the United States. However, time and time again, we see videos of unarmed, BIPOC people being harassed, assaulted or killed by police and very little cause or care from the system committing these crimes.
We keep asking why we see this same violence occur in different cities all over the country. It's clear now that these incidents can tear entire communities apart. Yet on the surface, no one seems to be learning.
We hope that good can come out of this, maybe in changes to the way officers interact with people. Hopefully communication lines can remain open between members of the community and the officers who represent them.
The transparency that was shown by Grand Rapids Police Chief Eric Winstrom was a healthy beginning, as he went against the advice given to him, which instructed him to hold onto the videos until the investigation was complete. Yet, the clearest footage should not have been shot by Lyoya's passenger, it should have been shot by the officer's body camera. The camera that was shut off right before the gunshot.
There is still a long way to go in the relationship between the police and the citizens they're meant to protect. Making sure the officer involved in this shooting never works for the Grand Rapids Police Department again would be a start.
Steps can and should be taken to prevent situations like this from happening. The problem can be cut off at the knees if we change the way we educate the police that we send out onto our streets. Alongside this, police deescalation tactics need to be continuously taught, enforced and followed.
For the people here on campus who feel unsafe due to racism in this country, or those who are also shocked by the events that took place in Grand Rapids, believe us when we say we are here for you. We support you. There will never be a closed door to you or anyone on campus who is affected by this or any other violence that has happened around this country. And if we cannot help you, we will point you in the direction that can.
If we all work together, we can solve these issues, and west Michigan will be all the better for it.