In my last opinion piece, I shredded the Ferris State student sections for being wastelands that had no to very little spirit.
However, I write this piece with a new found hope. The Bulldog faithful now looks and feels a little more faithful. My observations from last weekends' hockey series against the Michigan Tech Huskies would absolutely put my last opinion piece regarding student sections to shame.
What I observed from last weekend's tilt was that the Dawg Pound started off fairly well on Friday and got even better on Saturday night. Following the Bulldogs' 1-0 loss to the Huskies on Friday, both the Bulldogs and the Dawg Pound showed up on Saturday. The Dawg Pound was a fairly cramped madhouse where fans called the goalie a "bitch," made fun of his mom and reminded him to know his role and stay in his hole.
This is baseline for the Dawg Pound on any given weekend. However, the atmosphere created by this Dawg Pound led to banging on the glass and "fuck you" being shouted through the slits of the glass panels just to make sure the opposing players heard them. Those who led the Dawg Pound in chants told everyone to stand up and get loud during their shootout, which led them to victory on Saturday night.
I know, I know. This is what college hockey game atmospheres should be like. How does this at all indicate a better future for the student sections? Well, let's look at the numbers. According to athletics, the student section was filled by 443 students on Friday and a grand 599 on Saturday. This stacks up well to their last home games where they had 266 on Friday and 387 on Saturday. That's a 66% increase on Friday and a 55% increase on Saturday.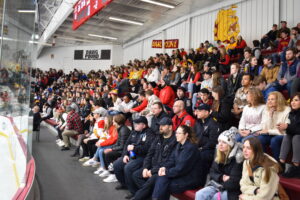 I'm very aware that this is a one game sample, however, it's very much a start for the Dawg Pound. Not to mention, the Dawg Pound showed up against a Huskies fanbase that travels for their teams and gets very loud for their teams. The Huskies' fans could be heard consistently throughout both nights. However, the Dawg Pound knew its duty to muffle their chants of "Let's go, Huskies!" with a loud and convincing "Let's go, Ferris!"
Of course, there's always the chance that I'm getting ahead of myself. It was one good weekend in one sport. The Dawg Pound isn't perfect, either. There are still moments of silence during big moments due to some in attendance being more casual viewers of the sport. However, I'll still hold onto this hope, dammit!
I wasn't the only one to notice how improved the student section was. Ferris hockey head coach Bob Daniels gave intense credit to the student section.
"I think they deserve a lot of credit for our victory," Daniels said. "They were all in right to the end when we tied. I didn't see anyone leave when we were down one. Hats off to them."
Imagine if this is what the Dawg Pound and other sports student sections could look like permanently. Imagine the atmosphere a Ferris sports game could have. This very much could well be a foundation being built for the Dawg Pound.
With the hockey team's improvement these past few years, there could be something brewing at Ewigleben ice arena. We can only see what next weekend holds.