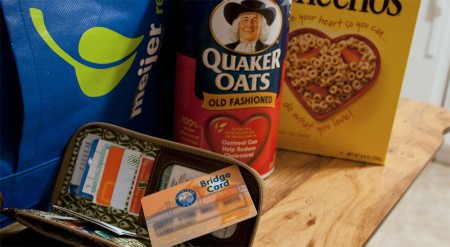 Ferris students who rely on a Bridge card to buy their food will be facing some difficulty this spring when their benefits are cut off.
Beginning April 1, the Michigan Department of Human Services announced college students will no longer be able to take advantage of taxpayer-food assistance unless there is a true need, according to a statement from DHS Director Maura D. Corrigan on Feb. 9.
Ferris students have mixed views on the decision to cut off college kids. Caitlin Higgins, junior in public accounting, believes the impact will be good and bad.
"I personally do have a Bridge card and without it, I could not feed myself," said Higgins. Although Higgins has a job, she uses that money and her financial aid to pay her bills, which she has been paying on her own since she was 16.
She added, "I pay rent, car insurance, my phone bill, my utilities, gas, everything out of my pocket. Without my Bridge card, I would starve."
However, Higgins does agree that some people should not have Bridge cards.
"I think that people who aren't contributing to society shouldn't have them either – I think that you should at least be required to look for a job before getting a Bridge card," said Higgins.
Under federal guidelines according to DHS, college students do not qualify for food assistance except in very limited circumstances.
The Big Rapids Pioneer reported on Feb. 10 that 800-1,200 local college students will lose assisted benefits.
Corrigan said the announcement illustrates Governor Rick Snyder's and the state's commitment to integrity in the state's welfare system while meeting their mission to serve Michigan's vulnerable children, adults and families.
Liz Troost, a Ferris pharmacy student, also said revoking the Bridge card from students is good and bad.
"There are a lot of students that have Bridge cards that shouldn't because they don't really need them. On the other hand, there are students where their Bridge card is really needed because they are self-sufficient and barely making ends meet," said Troost.
Sadie Wise, sophomore in communications, believes it is going to be hard for college students.
"They have to work and go to school, I see people struggling to pay rent. Why should college students be different from any other adult?" Wise said.
Wise said she is getting married in July and will be going to college and working at the Rock Café.
"Working at the Rock doesn't give us enough to survive," said Wise.
She also added, "We are adults, so if a college student has a kid, they will receive it? – But what about married college students?"
Brittany Spencer, an elementary education major, does not believe DHS' decision is justified and is simply another way to cut people off.
"The State of Michigan already has requirements for the various other assistance programs that prevent those who need it from getting them simply because they may be missing one requirement," said Spencer.
Rachel Mockaitis, senior in pre-dentistry, said she receives no student financial aid and the Bridge card was a way to help her and her parents in tough economic times.
"If I do lose my benefits I will have to ask my parents for money and take out additional student loans for food," said Mockaitis. n