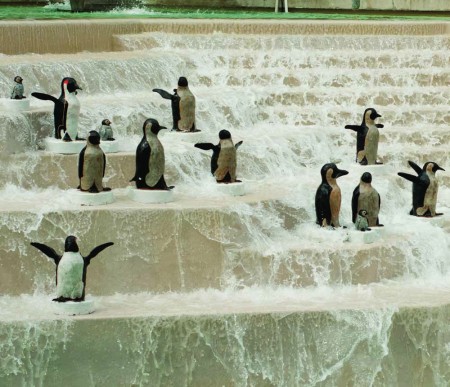 On Saturday I finally visited ArtPrize for the first time since its debut in 2009. It is an experience nobody should miss.
ArtPrize has so much to offer. Even if you do not enjoy or appreciate art, I still recommend you attend. It's not just paintings and drawings; there are amazing creations made out of scrap metal, art that talks and art you can interact with.
Of course I didn't get to see all of the creations. To be able to see all of the pieces, I imagine it's a three or four day event to make it to all of the venues throughout downtown Grand Rapids.
One the pieces I admired the most was "A Moment in Time" by Kate Askegaard. This piece consisted of drawings done in dots of historical icons such as Martin Luther King Jr., Abraham Lincoln, Princess Diana and John Lennon. That piece must have taken a lot of dedication, patience and precision.
Another piece I admired was called "Elements of Rock and Water" by Kathleen Kalinowski. Paintings are one of my favorite volumes of art. To get back into painting is something I would like to do. You can tell a story through a painting. To some, it might not make sense; you just have to make a closer observation.
There were so many works of art I would love to mention in this column, but there is not enough room, unfortunately.
One piece I really wanted to see but did not get the chance to in the Grand Rapids Art Museum was the winner of ArtPrize, "Elephants" by Adonna Khare. "Lights in the Night" by Mark Carpenter and Dan Johnson was an event I also would have loved to see.
If I had the opportunity, I would have pursued art. In grade school, I enjoyed art and took as many art classes as I could. Witnessing the wonderful works at ArtPrize told me that I can pick up where I left off. I just have to pick up that brush, that piece of charcoal or that pastel and tell a story with that picture.
ArtPrize is an experience that is not to be missed, especially if you have an appreciation and love for art. Every work of art has a meaning and story to tell. I'm eagerly looking forward to ArtPrize 2013.