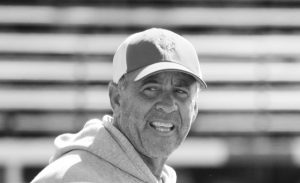 Prior to Ferris' 39-31 loss to Ashland on Homecoming, Head coach Tony Annese was spotted sneezing during the playing of the National Anthem.
Social media platforms erupted soon after with speculation as to what the fifth year coach was trying to say through this action.
"I think it's clear that he's standing up against institutional racism, which is a discourse that should be opened. He could've gone about it in a better way though. For example, he could have blinked rapidly and stood on one foot, which would be a more respectful way to protest," Ferris marketing sophomore Janet Jopiln said in a chain of tweets.
Other students weren't as open to Annese's demonstration.
"What a disgrace. If Annese doesn't have the respect for our military to suppress all involuntary, physiological responses during our anthem then I don't want him coaching at Ferris," Ferris CAD drafting senior and ROTC cadet Mike Mortchey said.
Annese had a chance to explain his actions in a press conference following the game, in which he was asked the same question about the sneeze about 15 times in various wordings.
"I have allergies," Annese said. "Can we please just talk about the game?"