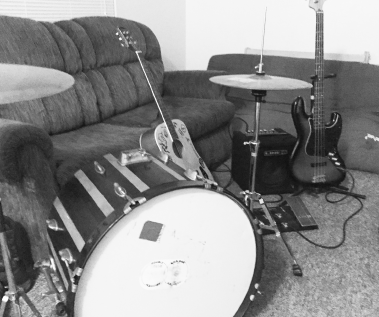 The next band to blast onto the music scene may very well be composed of four students from Ferris State.
Vocalist Jim Morteson, guitar player James Hendricks, bass player Buck Tentwhistle and drummer John Mahnob are all music industry management freshmen and recently formed a band that they, "swear will make the big time."
"We've really been getting our names out there. Well, kind of. We've changed our band name three times since last July but I think the "Silly Willies" are here to stay," Hendricks said.
The band also went by "Cloaca," "Toxiconomous Hippopotamus" and "Led Zeppelin II" before settling on their current name and receiving a cease and desist order last week.
"I'd say we're an alternative, grunge, pop-punk band. We're really original and are pretty much pioneering a new genre all together with the three and a half songs we've written," Tentwhistle said.
The Silly Willies' forthcoming album "Astroturf Earth Gala 9,000" will feature a mix of original songs and mediocre‑at‑best covers and is set to be released on the band's Soundcloud page Friday, Dec. 16.
"We wanted to get it out before the Christmas season, because our album will make a great stocking stuffer. We're projecting sales anywhere between one and 45,000 downloads in the first week, so we're trying to keep expectations realistic," Morteson said.
From humble beginnings on the floor of a dorm room, The Silly Willies have risen to a state of remote local notoriety and are determined to prove that they have the chops to make it in the music industry.
"Most of our shows have been around Big Rapids at open mic nights. We've tapped into the local scene really well. I mean, even The Beatles started out small," Morteson said.
To date, the band has played a two-song set at three different open mic nights, plus a sparsely attended house show in Hendricks' parents' garage.
"I just picked up a new pack of those glow in the dark strings and my solos are way better now," Hendricks said. "Plus our drummer finally picked up a proper drum stool so we can stop stealing my mom's dining room chairs to all our gigs. We're right on the brink of becoming rock icons. I can feel it."