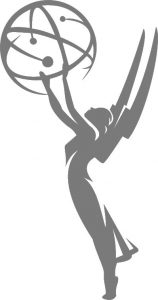 Former White House Press Secretary Sean "Scary Spice" Spicer attended the 69th Annual Primetime Emmy Awards to the surprise of everyone watching.
He took the stage in spectacular fashion, and people were confused that he wasn't, in fact, Melissa McCarthy.
Rolling up onto the stage with his own podium to stand behind, the only thing incomplete about the visual was the orangutan he used to follow around. Sad.
The Emmys is the perfect backdrop for Spicer. A room full of rich, predominately white men must have made him feel comfortable again, almost like coming home.
He was robbed. He should have won an acting award. I mean, his monologues of "alternative facts" were certainly convincing to a lot of people on television.
Spicer is known for his heroic duty of providing the public with strategic misinformation. He certainly stands out in that category. Give that man an Emmy, Hollywood!
Lord knows he needs the support now that he is without his tag team. The comedy act is sorely missed. Who else embodies a meme so artfully?
"This will be the largest audience to witness an Emmys, period! Both in person and around the world," Spicer said.
It must have been true. Someone who formerly worked in the White House wouldn't lie to us, right?
Now that he left the White House, we hope that Spicer will announce the creation of his culinary spice line, with our personal favorite, "Orange Tan." The seasoning will go well with the apocalypse approaching.
Interest in this product has been mixed based on preliminary polls: most of the people who like Sean Spicer coincidentally do not enjoy spicy food.