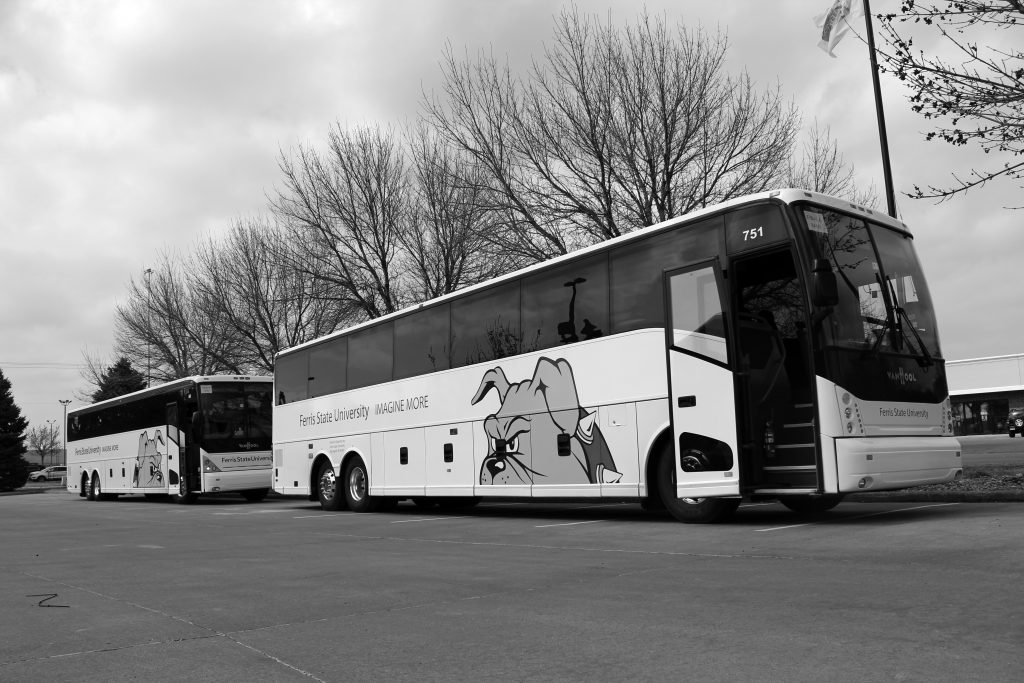 Two fan buses packed with Bulldog fans journeyed from Big Rapids to South Dakota to watch Ferris' men's basketball team hoist the National Championship trophy.
The buses rumbled down the road, driving through the night and next morning for approximately 15 hours before finally reaching Sioux Falls, South Dakota. Tire Fire reporters aboard the bus needed something to do to fill that vast expanse of time, so they tracked a timeline of events on the bus. Check it out below!
10 p.m. — Bus departs from Big Rapids.
10:30 p.m. — On-board bus WiFi fails. Passengers riot. Fragile strings that once held common human decency together begin to unravel.
11 p.m. — Bus WiFi restored. Scattered factions of formerly civilized passengers returned to their savage evolutionary roots continue watching Facebook recipe videos.
12:15 a.m. — Stranger awkwardly falls asleep with head on neighbor's shoulder. Courteous stranger just lets it happen.
2 a.m. — Bus drivers opt to stop at a rest stop and turn on all the ceiling lights inexplicably in the middle of the night. Y'know, just to make sure that no one can sleep and the torture can continue unabated.
3:45 a.m. — 145th improvised verse of "Wheels on the Bus" begins as an increasing number of passengers contemplate hurling themselves out the window and into highway traffic.
4:20 a.m. — Blaze it.
7 a.m. — Bus drives by some cows on a roadside farm. That was pretty cool.
9:20 a.m. — Snack supplies run short. Cannibalism is jokingly mentioned but not seriously considered by most passengers.
11 a.m. — The reporter writing this timeline reconsiders and inevitably regrets every decision made in his life that has led to sitting on a bus for 13 hours.
1 p.m. — Bus arrives in Sioux Falls, South Dakota. Only 14 percent of the passengers still have sanity intact. Trip is still deemed a success.
Click here for more tales of adventure.