As Thanksgiving 2018 comes to a close, Ferris nutrition junior Ashley Winterbottom is feeling the after-effects of a holiday well done.
"I have a love-hate relationship with Thanksgiving," Winterbottom said. "I love the turkey, mashed potatoes and pumpkin pie. I hate feeling bloated for the rest of the week though."
Being a hardcore nutritionist with an interest in fitness, Winterbottom admits that Thanksgiving can bring out the worst in her.
"I don't think I do too bad on Thanksgiving," Winterbottom said. "Sometimes though, I swear I smell turkey and everything just goes black."
Ferris psychology senior John Turk agrees that his girlfriend, Winterbottom, can get a little wild on Thanksgiving Day.
"Her eyes get all peeled and sharing is no longer an option," Turk said. "Her family wanted to play the game where everyone says what they're thankful for, but when they got to Ash, all she could mumble was 'turkey' between bites. It was a little scary."
Turk said that this may be his final year with his girlfriend due food to the fact she's abnormally obsessed with all things Thanksgiving. He's nervous she doesn't realize just how obsessed she really is.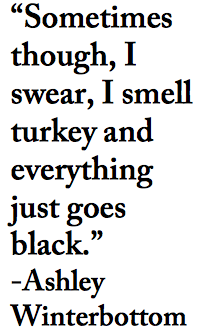 A self-proclaimed Thanksgiving fanatic, Winterbottom said she has a system to fend off the post-turkey bloat.
"I drink a whole bottle of Pepto Bismol, two bottles of water and proceed to slip into a food coma until classes begin again," Winterbottom said. "If that doesn't work, well, then I'm just in pain for the remainder of the week. But it's always worth it, am I right?"
Ferris secondary education junior Brita Water would be one student who disagrees with Winterbottom's theory.
I'm her roommate, and just let me say, it's never worth it. Drink Pepto Bismol. If not for your sake, then for your roommate's," Water said.
Something Winterbottom wishes she could change about Thanksgiving is the wardrobe requirement, saying she doesn't like the judgement her pants give her aer a day of eating. Because of this, she is considering purchasing maternity pants to help with next year's festivities.
"When your pants are stretchy, your stomach is happy," Winterbottom said.