After five days of silence from the president's office, David Eisler released a statement via email regarding the Twitter account under physical sciences professor Thomas Brennan's name.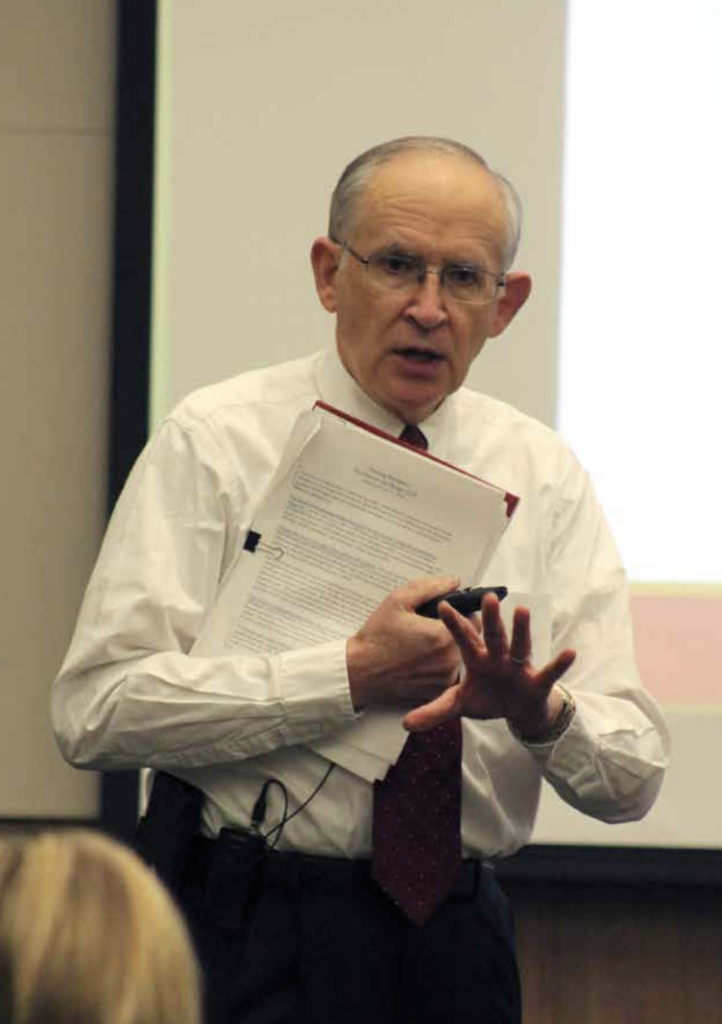 The university announced Thursday that it was investigating Brennan after learning of a Twitter account with his name, photo and multiple self-identifying posts. The Twitter spouts racist, antisemitic and homophobic slurs, along with many tweets calling COVID-19 fake, a hoax and a leftist stunt. Brennan shared his beliefs on COVID-19 in a College of Arts and Sciences zoom meeting earlier this semester, which the university said he was previously disciplined for.
In Eisler's statement this morning, he directly addressed the Twitter and the views expressed on it.
"Individually and collectively we were shocked and outraged by these tweets," Eisler's statement said. "They are extremely offensive and run counter to the values of our University and our commitment to diversity, equity and inclusion. Our students, faculty, staff and members of the community are upset and offended by these comments, and they should be.
"Our University was founded on the concept that education is for all of the people all of the time, that all people are welcome here. We strongly reject these statements, condemn them and will not tolerate them. We have worked diligently to become a more diverse university, and these statements demonstrate vividly how one person can set back the work of many. I call on our University community to come together, to discuss these challenges and to begin to repair the damage from these actions."
Eisler did not respond to multiple requests for comment before or immediately after the original story was published by the Torch, and defaulted any comments to news services manager Sandy Gholston on Thursday morning. The first statement released Thursday evening by Gholston did not mention the Twitter or any of the racist, antisemitic or homophobic language used in numerous tweets. Two hours later, an updated statement was sent out, with the addition that Brennan was placed on administrative leave.
The collective bargaining agreement between the university and the Ferris Faculty Association states that "there shall be no disciplinary suspension without salary, or disciplinary discharge" until a conference is held with an impartial administrator, in which a full investigation of the charges will be conducted. The conference will result in a written decision, but the administration "shall consult" with the president of the FFA before suspending or discharging a faculty member, according to the agreement. Once a decision is made, it is immediately appealable.
According to an official university salary list, Brennan's base salary was $60,893 in 2017, and his total compensation that year was $75,553. Under the FFA agreement, Brennan would not face a suspension without salary until the conference is held.
In Eisler's statement today, he noted the disciplinary process for a tenured faculty member is outlined in the FFA agreement, which states that faculty members "should be free from institutional censorship or discipline" if they make every effort to be "accurate, exercise appropriate restraint, show respect for the opinions of others."
Included in the breach of professional conduct that can result in disciplinary action are "willful deficiencies in professional conduct and/or performance" and "violation of Employer policies."
FFA President and physical sciences professor Charles Bacon released a statement from the FFA Executive Board as well.
"The FFA Executive Board, as representatives of the faculty at Ferris State University, holds Ferris's core values of diversity and ethics in high regard, and, therefore, does not support or condone violations of federal and state law or university policies relating to discrimination or improper conduct based on race, color, religion, national origin, sex, sexual orientation, age, or disability by anyone at Ferris State University."
Ferris vice president of diversity and inclusion David Pilgrim sent out a university-wide email this morning to inform students, staff and faculty of a town hall to address the racial climate at Ferris. The meeting will be held over zoom at 6 p.m. Tuesday, Nov. 24.
"It tears my heart to know that some of our students do not believe that the university belongs to them," Pilgrim said. "Recent incidents on our campus have left them feeling mocked and marginalized. We are challenged to create and nurture a respectful and welcoming environment for our students—and faculty and staff.
"I want us to be a university community where we can have difficult, sometimes painful, conversations. There is racial tension on our campus—and campuses across the nation. To avoid discussing this reality perpetuates a cycle of misunderstanding and misinformation. We are a better institution when we hear the voices of our classmates and colleagues. We have begun this work, and we will continue it."
Ferris students, staff and faculty can join the town hall with this zoom link: https://zoom.us/j/99549695944
Read President Eisler's statement in full: