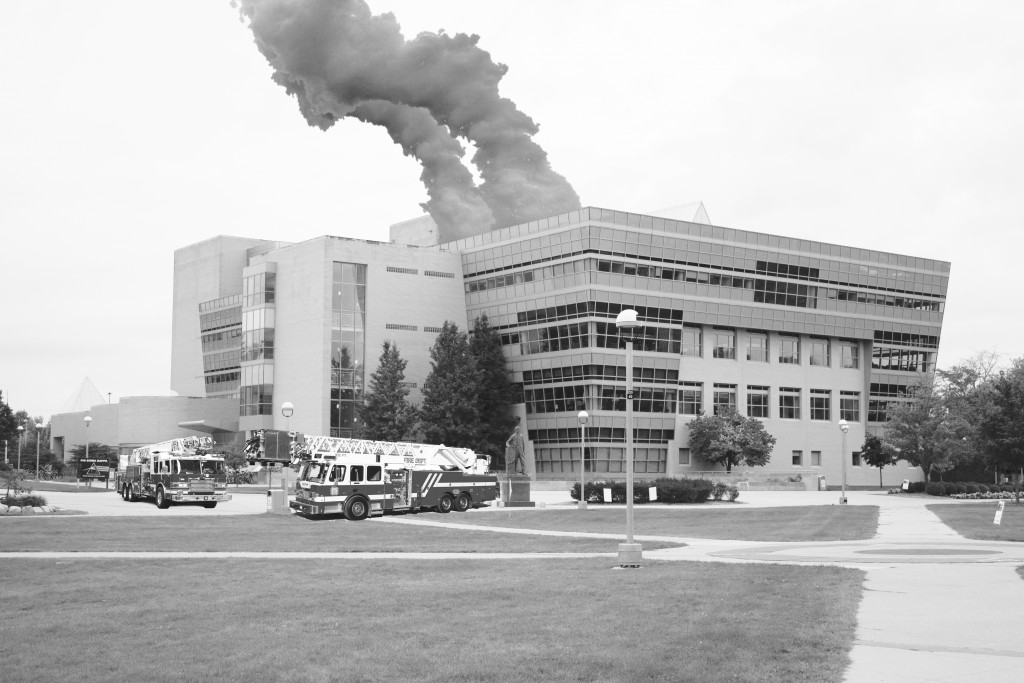 A fire on the third floor of FLITE led to the death of 44 Ferris State University students and approximately 3,000 books around 8 p.m. on Tuesday, Jan. 26
According to Big Rapids fire chief Rick Richards, a student smoking marijuana in the bathroom started the fire.
The flames spread from the bathroom to the main floor of the third level, which has a strict no-noise policy.
"I noticed the fire coming towards the main part of the floor, but I was too scared someone would say 'SHHHH!' and flip me the bird if I said anything or called for help, so I just sat there in silence," said Ferris public relations sophomore Jenna Starbuck, who survived the fire with only moderate burns to her face.
The fire blazed for more than an hour before FLITE patrons on the second floor noticed the smell and called for help.
FLITE librarian Sherry Jones said she was browsing cat statues on Etsy when she smelled something burning and called 911.
"This is a horrible tragedy," Jones said. "We had no idea the silence rule would become the silent killer. I'm just glad the fire stayed on the third floor, though."
The student who started the fire is being held in custody at the county jail. Richards said he will likely be charged for manslaughter on up to 44 counts.
"I don't even know what to say," said the student who started the fire, whose name has yet to be released. "I was just trying to get high so I could focus when studying for my pre-pre algebra exam. Now my life is over forever."
Classes are canceled for the remainder of the week, and the Counseling Center hired 14 temporary grief counselors for students to talk to.
President Eisler will appear in a press conference at 9 a.m. Thursday, Jan. 28 at the University Center ballroom to discuss the FLITE fire and the next steps.
In better news, Ferris State is planning to build a new luxury residence hall for hockey players only. Check it out!