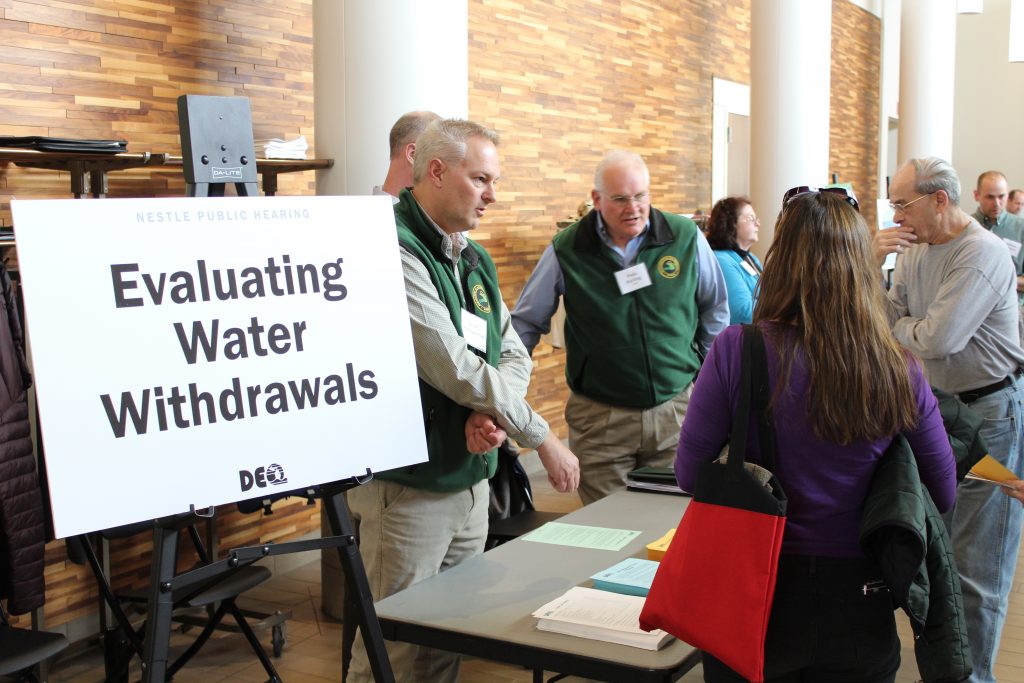 Article by: Keith Salowich and Marley Tucker
Two hours prior to the event, more than 100 Michigan residents had already registered to speak during the Michigan Department of Environmental Quality's (MDEQ) public hearing.
Busloads of residents from Flint, Detroit and other Michigan communities descended on Ferris State to voice their concerns regarding Nestle's pending permit with the MDEQ. The purpose of the event was to offer information and collect opinions from the public on Nestle's proposal to increase the amount of groundwater being pumped from a site in Osceola County from 150 gallons per minute to 400 gallons per minute.
Flint resident Claudia Perkins-Milton was just one of many Flint residents to make the 160-mile journey to Ferris State.
"Every day that I have to cook or clean I use bottled water. If I have to open a thousand bottles of water per day to cook properly, to bathe my grandkids and myself, those are the things that happen because we don't trust the water," Perkins-Milton said. "Of course anything that is going to violate water in any way, shape or form we're going to stand up against it."
Hundreds of individuals put their thoughts on the record via the public hearing and separate listening stations where people could speak away from the crowd of more than 600 and for a longer duration.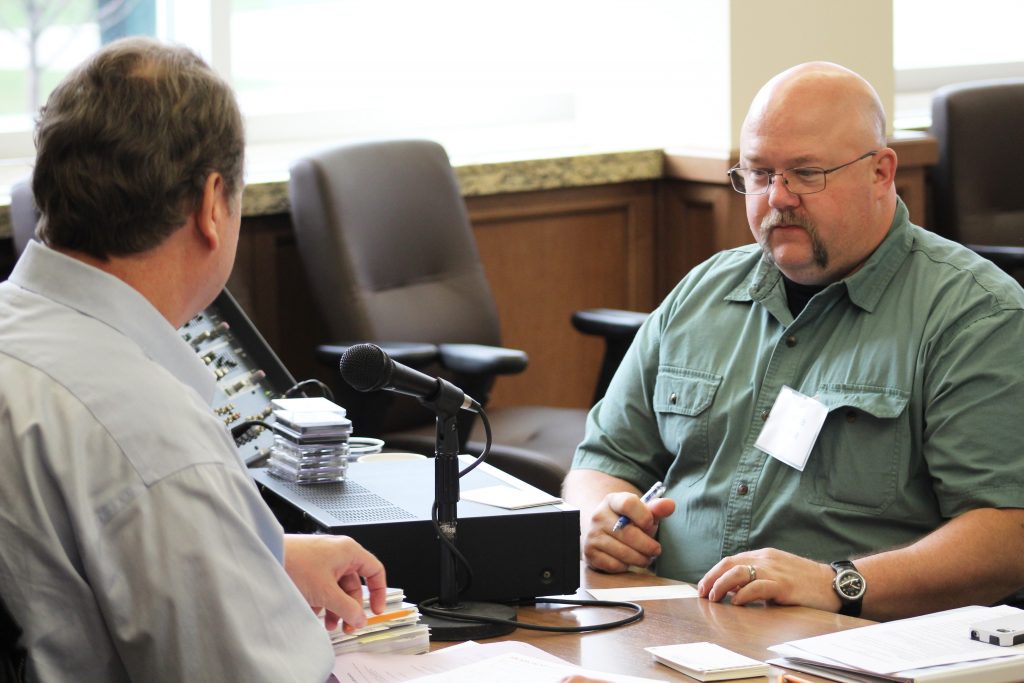 President of Michigan Citizens for Water Conservation Peggy Case led off the public hearing by opposing Nestle's permit for increased pumping of groundwater on the grounds that their environmental impact estimates were based on computer models instead of other physical evidence.
Case's testimony was met with feverish applause throughout the room.
The crowd also got rowdy for other speakers, at one point chanting for the MDEQ to, "Do your jobs," chanting "Flint Lives Matter," and faking excessive coughs during a Nestle representative's time at the mic, among other call-outs.
Ferris communication and public advocacy senior Michael Williams was among the last people waiting to speak after buses back to Flint and Detroit had departed and much of the crowd had dispersed for the night.
"You have heard the voices of Michigan tonight," Williams said. "We are not to commoditize our human right. The DEQ's decision is supposed to be based on fact. We have precedent, we have court rulings. Those are your facts. We have rivers that have dried up and streams that have been exposed. That's your proof. A model is not proof."
The public hearing portion of the event began at 7 p.m. and was only expected to run until 9 p.m., but unprecedented interest extended the hearing for more than three hours. Each registered person was allowed three minutes to speak.
Evart resident Beth Gilmer spent more than two months at Standing Rock and is now taking on a water issue in her own backyard.
"The DEQ needs to be on the side of the people, and not on big corporation's side. Our voices have to be heard. The only way for any of these issues that are coming up to be fixed is for us to write, to call, to be present at these meetings. I know that the population of Evart is against it, but the people need to show up to demonstrate this," Gilmer said.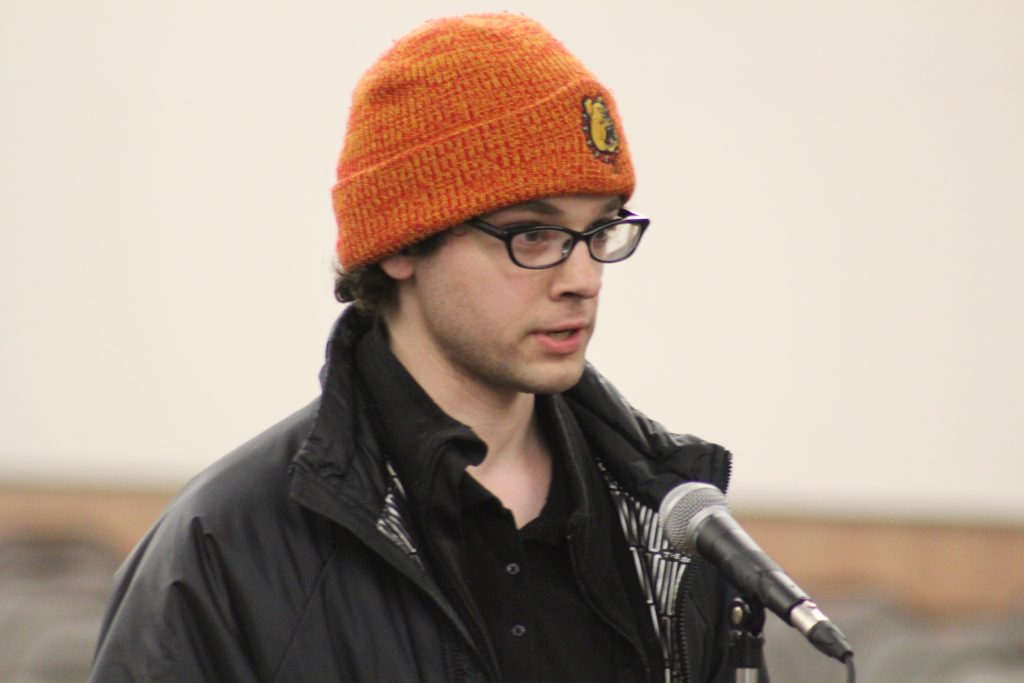 Former Ferris State student and Big Rapids resident Justin Macauley was motivated to speak during the public hearing as a result of his time following the protests at Standing Rock, North Dakota.
"Nestle waters thinks that they can take water, which is a human right. You have the right to drink it, I have the right to drink it. It falls from the sky and they're trying to put a price tag on it and sell it," Macauley said. "As a human being I have to do something about that for seven generations to come for other people. If I don't do something about it then who is?"
Grand Rapids resident Connie Swinger states that women in her United Methodist church group have been against bottled water since the inception of the idea.
"I think [Michigan residents] need to be more water conscious and we need to pay attention to what's happening. I don't think that Nestle should make a profit and take the water for almost nothing for it, especially when there are people in Flint who don't have drinkable water at all," Swinger said. "$200 is not enough for all of the water."
A Ferris State University sign was posted warning those in attendance that signs, banners, chanting and unauthorized solicitation were prohibited and would be grounds for removal. This disrupted the plans of the Bulldog Sustainability Alliance, Conscious Consumer Coalition and FSU Outdoor Club RSOs, who had prepared a sign for the sit-in that they had organized for the event.
Others with signs were also turned away and several police officers present helped to ensure that these rules were followed.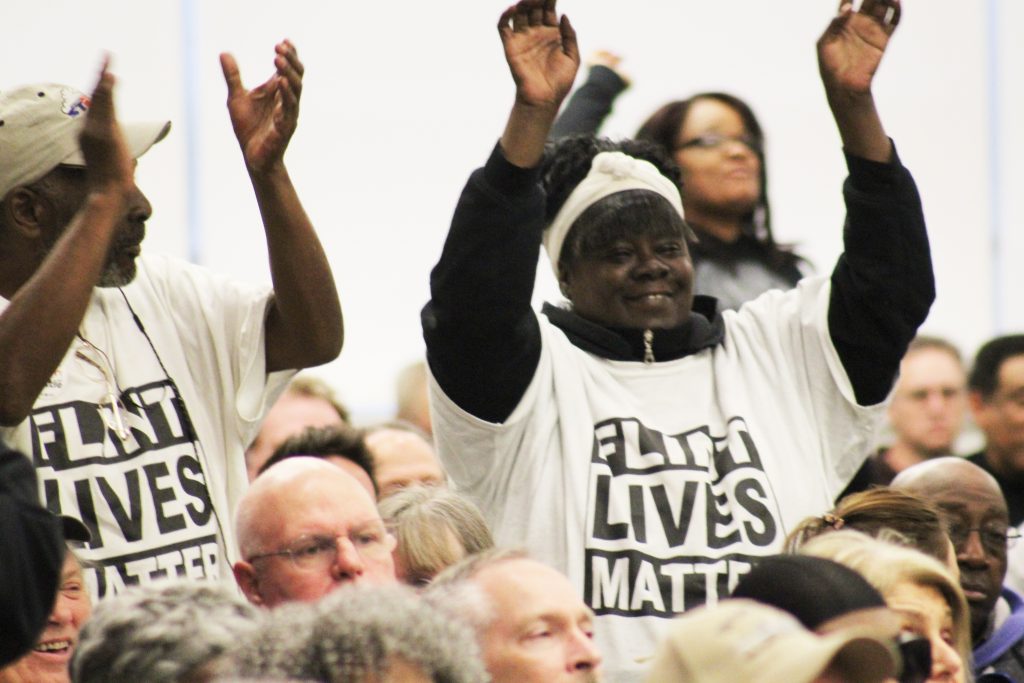 "When do you say enough is enough? When do you give back? When do you worry about the Earth and everything else around you? Where do we go when everything is gone," Perkins-Milton said. "We are the Great Lakes state, and we want to remain great. We cannot do it with corporate greed and exploitation. We need to stand up."
The MDEQ will be accepting written comments from the public here until 5 p.m. Friday, April 21. A date has not been set for when the permitting decision will be finalized.
For more coverage on the Nestlé permit application, click the following links.
"Water wars – Nestle fights to draw up to 400 gallons of water per minute in Osceola County, Michigan Citizens for Water Conservation fight back"
"What's the big deal with the water? – Potential environmental and economic impacts of Nestlé pumping groundwater considered"
"Water is life – Water should be further prioritized to secure societal and environmental health"
"Taking a seat to take a stand – Ferris students organize sit-in to voice concerns at MDEQ public hearing"