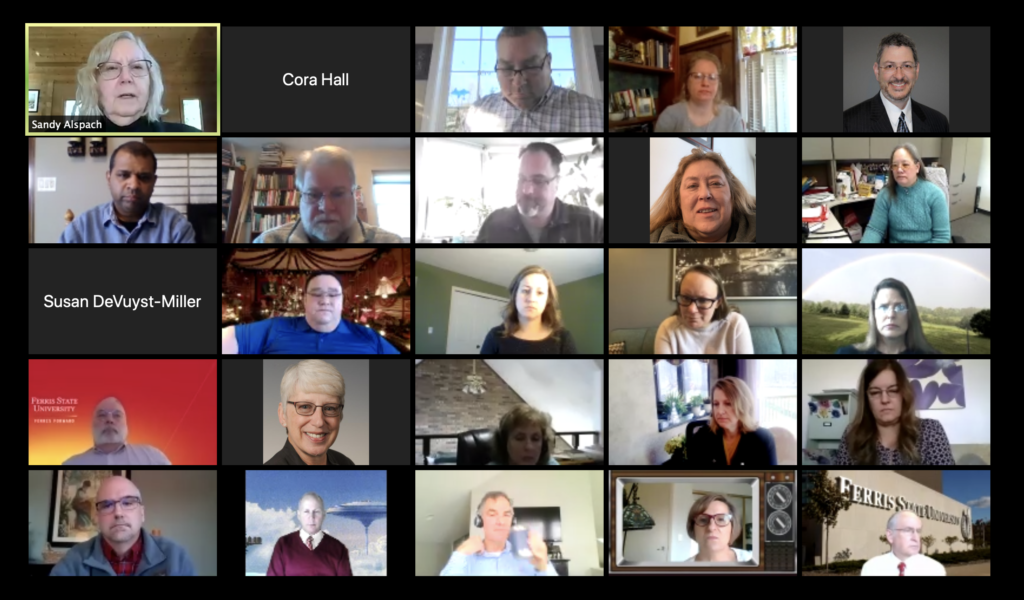 The Ferris faculty overwhelmingly voted in support of a resolution of solidarity in "standing up for a unified and diverse campus community" in an Academic Senate meeting on Tuesday.
The resolution, drafted by biology professor Anne Spain and art history professor Rachel Foulk, passed with 94% of academic senators in support. There was 3%, which is one senator, not supporting and 3% abstaining. Due to voting over Zoom, the two senators not supporting and abstaining were anonymous.
President of the academic senate and communications professor Sandra Alspach asked Foulk and Spain to write it in direct response to the revelation of physical sciences professor Thomas Brennan's Twitter account that was reported by the Torch.
Brennan's Twitter account, which he publicly claimed as his in his letter to the Ferris community, spews conspiracy theories about the legitimacy of COVID-19, antisemitic and homophobic language and frequent use of the n-word, which he defends the use of in his letter. Brennan was put on administrative leave on Thursday, Nov. 19 and his faculty profile has been removed from Ferris' website. President David Eisler made a statement condemning the racism, antisemitism and homophobia posted on Brennan's Twitter five days after the news broke.
Among points listed in the academic senate resolution were condemnations of statements of racism, antisemitism and homophobia, which "do not align with our and the University's core values." It also directly states that the faculty recognize "the existence and exposure of these tweets has brought hurt and outrage to members of our community, especially to our Black, Jewish and LGBTQ+ students, staff, faculty and administration."
"I listened when Rachel Foulk asked 'what is the union position and what can we do?' and there was a real pained look on the president of the union's face because there are limits to what the union can do," Alspach said. "There are powers that the union has that the senate does not enjoy and that's why we have two separate bodies representing the faculty because those things that the union can do, we trust them to do and do well... Wherever we find intersections and commonalities and share and be unified, we will do that."
Spain said she originally felt awkward initiating the conversation at the Ferris Faculty Association meeting, but was encouraged to speak after Foulk asked FFA president Charles Bacon where the union stood. Bacon did not respond to a request for comment.
"It gave me the courage to speak on behalf of my desire to send out a message," Spain said. "First thinking about our students who were hurt and then thinking of the entire faculty and university community. I believe as faculty we have the privilege and the duty to use our voice. There are times when using that voice and exercising that duty feels essential. And now feels like one of those times.
"By doing this, we wanted to reach all of those, especially those belonging to marginalized groups, that we're hurt by the recent statements of faculty member Thomas Brennan. We wanted to say and really express that we see you, you belong here, that you matter and that we are here."
While there was no opportunity to amend the resolution on the floor Tuesday, other members of the academic senate shared their support and biology professor Scott Herron believed the academic senate was on the right track with the statement.
"I would strongly encourage us to keep in mind that as these statements have been made and hurt our community, I think about making sure that all of the students in all of the community have that seat at the table," Herron said. "I strongly encourage us to honor all of the cultures that make up our university and that includes the students that are mentioned in this letter.
"So I think of that and the lack of statements at times about honoring certain groups, whether that be Native Americans or whether that be in this case recognizing that the harm goes deeper to some of our students than we can document in here. Being willing to continue this conversation is something that I strongly encourage us to do."
Social work professor Michael Berghoef added that among faculty and students he has heard from regarding Brennan, alumni have reached out as well.
"The reach has gone beyond our Ferris employees and students," Berghoef said. "The harm has gone far, but I think this is a step toward healing as well and for those who were in the townhall that Dr. Pilgrim hosted last week, it was pretty painful to hear the student stories in there, that was rough, so we've got some work to do and I really appreciate this step in that direction."
The statement strikes the perfect tone in political sciences professor David Takitaki's eyes, however, he wished it had made an additional emphatic commitment by the senate to look for these actions and make their best efforts to educate the university community on them going forward.
"What's important I think is understanding that we can't change what has happened but that we, as a body and a significant voice within our university community have the ability to be a force to try to push this issue in a positive direction going forward. I think all of us here are committed to that," Takitaki said. "We need to heal, but I'd also love to see us find ways to be more proactive about this in the future."
Eisler was present in the meeting and addressed the resolution after it had passed.
"Thank you for your statement," Eisler said. "I appreciate so much that you as a faculty body would make this statement on behalf of our university. I think it's important and significant and appreciate that you would do that."
As of Tuesday, Dec. 1, the administration had no update on the investigation on Brennan. In multiple tweets replying to a Torch article, Brennan accused the Torch of not mentioning tweets that support groups of people his other tweets marginalize and use slurs in reference to.
The Torch article also didn't mention this tweet, where I voice support for Dr. MLK's Dream:
https://t.co/hUatKKIR34

— Thomas Brennan (@ThomasB57121856) November 28, 2020
Brennan also made allegations that the Ferris administration has been "harassing" him for over a year and "if they're embarrassed by this controversy they could have avoided it by quietly asking me to delete my Twitter account." On his website, he alleges that his university email has been deactivated.
He then replied to the same Torch article, claiming that Ferris tried to pay him $25,000 to "shut up and go away." He affirmed that he will not resign and will fight to "stand up for my free speech."
So Ferris just tried to pay me $25,000 to shut up and go away. I'm not going to resign, I'm going to fight this all the way and stand up for my free speech.

— Thomas Brennan (@ThomasB57121856) November 27, 2020
Communications officer Michelle Rasmussen did not have any comments in regard to the allegations made by Brennan and Eisler did not respond for the request to comment.
Read excerpts from the resolution passed by the academic senate here: