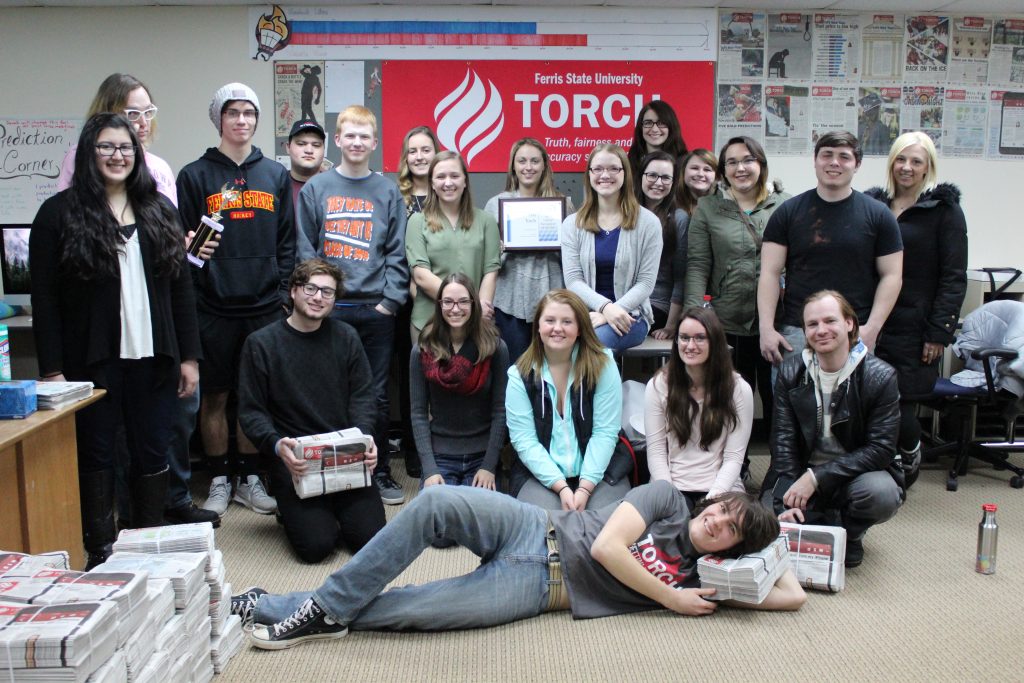 The Torch was named 2016's best weekly college newspaper in the Michigan Press Association's "Better Newspaper Contest."
The annual MPA competition saw 625 entries from 13 college newspapers across Michigan. The Torch won 28 individual awards in the contest's 17 categories.
"Winning the best newspaper award is a high point in my nine years advising the Torch. It means that individually there are a lot of great staff members doing excellent work. As a staff, like any successful team, it takes individuals working well together to reach a high level. I'm proud of the Torch team," Torch adviser and Ferris journalism professor Steven Fox said.
Torch photographers swept both the news photo and sports photo categories by winning first, second and third place, along with taking home honorable mention in both categories. The Torch also nabbed two of the top spots in the best photographer category and three of the top four finishes in the best writer category.
"This is a staff that gets pumped on journalism and a lot of them have been working around the Torch for years. There are so many of us that aren't even pursuing a journalism degree or career, but we love our jobs and feel that we're making a difference and this success is testament to that," Torch Editor in Chief Keith Salowich said.
The Torch tallied four design awards including a 1st and 2nd place finish in the non-front page design category.
"The Torch is well respected around the state, not only by other college newspaper staffs, but by leaders in the news business. I am pleased to work with such a talented and committed group of students," Fox said.
Cartoonist Mikala Piller had two of the top four editorial cartoons in the state, winning both 3rd place and honorable mention honors. The Torch's website was also named the third best in the state.
"I'm so proud of what this staff has accomplished. Not just the award winners, but so many others working behind the scenes that don't get mentioned in the byline or on the award certificate," Salowich said. "These awards reflect both outstanding work by individuals and the huge amount of support they receive from fellow staff members."